You've sit on many types of reclining, club and occasional chairs, but now a designer wants you sit on a chair with wooden needles. It's a chair inspired from traditional Chinese medicine practice acupuncture, and it is called the Painful Chair – maybe because you are going to feel some pain sitting on a chair with needles?
A look at the chair
It is a wooden chair, handmade to demonstrate creativeness possible with wood. The chair is called Painful but it doesn't mean you feel pain when you're sitting on it. Instead it is called Painful Chair because it feels painful to see the chair which has about 800 wooden nails hammered on to its sitting area.
Designed by Rhode Island design student Sean Zhang, for his project themed "pain of culture" the Painful Chair is made from traditional manufacturing technique to express that traditional design and manufacturing technology may be losing out in modernization, but there are some designers who wish to savor the art.
The Painful Chair and inspiration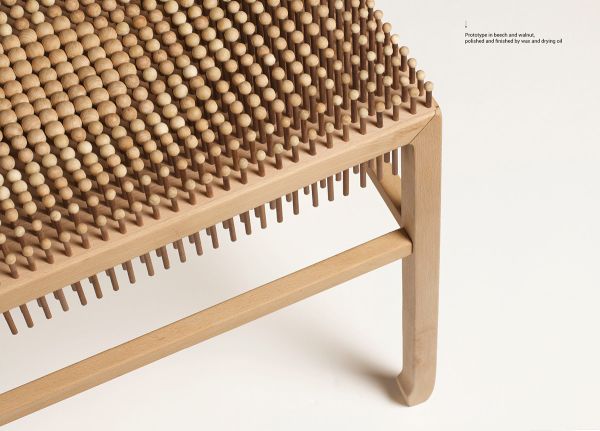 The chair, as said,has wood nails protruding on the surface which are inspired from Chinese acupuncture. Based upon traditional Chinese crafts, the Painful chair is crafted with modern equipment, but its design and form largely follow traditional chair making procedure.
To start off building the chair on lines of Chinese acupuncture, the designer began with equal size needles on equal distance. But soon he adapted a more refined approach – he placed the needles in ascending order of size from one end to the other. This gradient effect of changing height of the needles in vertical direction is what makes most visual impact on the look of the Painful chair.
Sean's words
The Painful Chair, according to Sean is his first attempt at making a handmade chair. He says, making a chair all by hand is a challenging task, even his tutor at the institute had asked him to take up a more modern way of making the chair, but Sean continued the traditional way.
The chair is still not complete, and Sean is working on completing it as originally planned.
Through the wonderful Painful Chair, Sean has demonstrated the painstaking work that goes into craftsmanship. And with his amazingly creative chair, he wants to turn people's attention to the beauty and creativity of traditional craftsmanship which is fading with the sand of time.
Source : Behance.Net