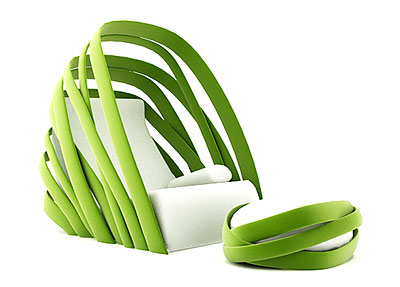 The uncommon never fails to grab attention.The newest in the series of uncommon furniture is the Kanom lounge chair. Kanom is a class apart in its looks. While the green frame makes it soothing to the eyes, the white upholstery makes it wholly delectable just like the Thai dessert from which it has been inspired. The Thai dessert made from rice and served in banana leaf for ages has now been the muse behind a creation like Kanom which is sure to grab eyeballs in your lounge for its style and color combination.
Thai designers Decha Archjananun and Plowpan Theerachai have not just proved their dedication to their culture but have also shown how the concept of metal furniture can be interpreted in a new way. This award-winning designer duo has used iron for the framing and yet, at a glance everybody is sure to mistake the frame for either cane or wood. Bearing an uncanny resemblance to the banana leaf, the metal framing adds a special touch to the artistic chair that can look best with a potted plant and a painting next to it.
The upholstery of the Kanom comes without any additional covering which is another of Kanom's unique features. With modular furniture changing the whole appearance of the urban living rooms, Kanom's perfectly smooth finish is a style statement inside any home. Artistically-conceived-Kanom is very simplistic in its style and probably that along with the use of two soothing colors like green and white is what makes it the cynosure of all eyes. Anyone who procures it is sure to place it in the center of the living room and work his way into achieving the right ambiance for this lounge chair.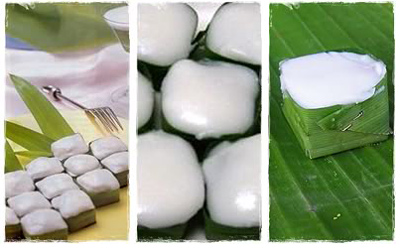 The neat contours of the upholstery and the well defined lines of the frame make Kanom look perfect in its aesthetic touch. With the foot stool looking more like a dessert, this set is a coveted furniture for many homes. Apart from the cultural dedication that makes the original combination green and white, you can also choose from other colors like purple and black. The precision of the work is sure to delight all art connoisseurs who would love to own a Kanom chair in their lounge and feel the warmth of sitting on it. The designers have been able to accomplish the perfect combination of comfort with style through this lounge chair. Once you have got it, you can read your favorite book here or better still have a quiet evening with friends fighting for having their share of the Kanom experience.This work of art is boun all over the world and if yd to hog the limelightou have not tried the dessert, then you can have your first experience while sitting in a Kanom.
Via: Thinkk-studio