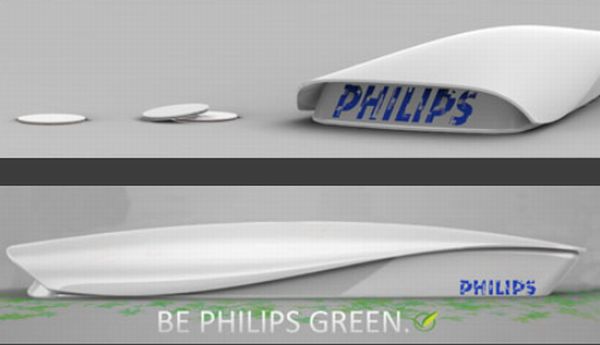 Philips, the global electronics appliances company, has introduced an energy usage indicator that is designed to visually compel the user to save energy. The Eco-Indicator not just shows the energy usage in numbers and by color changes on its LED lights but the shape of the aesthetically designed housing appears to distort to draw attention to energy wastage.
The product consists of the `main hub' and several `links' that are 40 mm diameter disks that communicate with the hub by wireless communication. The hub is placed on one of the appliances in the house that is always visible to the home owner, such as the TV receiver. The links are placed on the various energy using appliances. The main hub is made of a paper polypropylene alloy with carbon nano-tubes embedded in it. When it is installed, the shape of memory polymer case appears distorted. Once the hub and the links too get installed and the user switches on the normal complement of appliances that he wants to use at any one time, the energy flow makes the hub regain its flowing lines and the inbuilt soft white light glows. The link discs also have lighted rims that glow white.
After this initial calibration of the eco-indicator, if the energy usage were to increase from the set norm, the white light in the Hub turns to orange and then to red and the Hub shape appears to distort visually. The disk on the individual appliance that is the energy guzzler changes color from white to orange and red, telling the owner the corrections he needs to make. This intuitive feedback to the user is the compelling feature of this new product.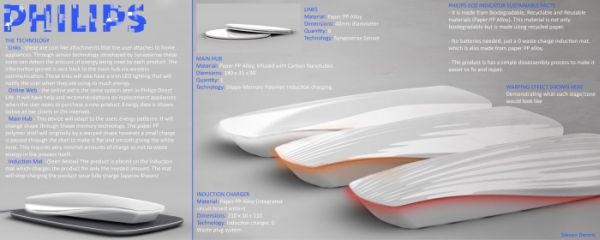 Being a product to promote green behavior, the eco-indicator is itself designed in green. The hub housing and the links are made of an alloy of recycled paper and polypropylene. The hub or the links use no batteries . They use induction charging, the hub gets charged from a charging mat placed under it that gets charge from the current flow in the appliance on which it is placed. Likewise, the links are sensors based on synapsense technology.
In addition to the visual feedback by color and shape change, the hub can also be web-accessed from a mobile phone or from a computer so that the homeowner can monitor energy usage even when he is not at home. Philips has also introduced an incentive plan for good energy behavior. Any user who reduces energy usage by 20% over the previous month earns eco points that can be exchanged for a Philips home appliance.
Tags: Technology, energy meter, Philips, induction charging