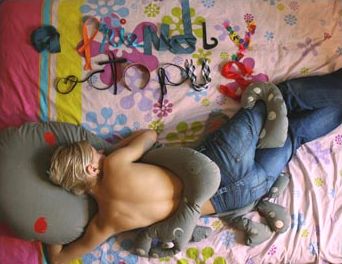 My first reaction after looking at this bizarre thing was 'Whaaat's that?' It was only after a span of 30 seconds that I could make out that somebody is sleeping on a strange pillow and it was only after a close patient look that I could realize that the pillow is shaped like an octopus with a giant head.
They call it Karakiri. It's a friendly octopus that'll holds you or you can hug him while sleeping, whenever you miss someone special.
Perfect for those chilly sleepless nights when your man is away, Karakiri will be there to give you the desired comfort.
Made in cotton, Karakiri is washable and will be customized according to your needs and requirements.
Via: Designspotter