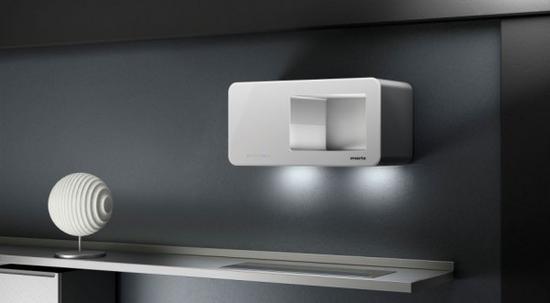 Mertz has just come up with its latest kitchen appliance – the remarkable F 102 cooker hood. It is sure to add more style to your kitchens! This Bauhaus-inspired extractor comes in two colors – white and black – and has dual functions. While the main being extracting smoke fumes arising from the hob, the latest is a storage cavity that you can utilize as a showcase for herbs and spices for easy access while cooking.
This smart extractor has steel finishing that protects it from staining; has 4-speed touch controls giving optimum performance; and has automatic sensors that adjust according to the intensity of the heat produced by the hob. Surely, a chimney cannot get smarter than this! The F102 has an extremely high extraction capacity (600 cubic meters/hour) with touch controls that are very easy to use. The heat sensor automatically adjusts the speed of the extractor and the PLF (perimeter laminar flow) ensures that the fumes escaping from the sides are also extracted. The PLF is much easier to clean than a traditional extractor, and does not accumulate grease either.
So, if you are keen to give your kitchen a makeover, then go and buy an F102 appliance with aesthetic and high utility factors!
Via: Thekitchendirectory