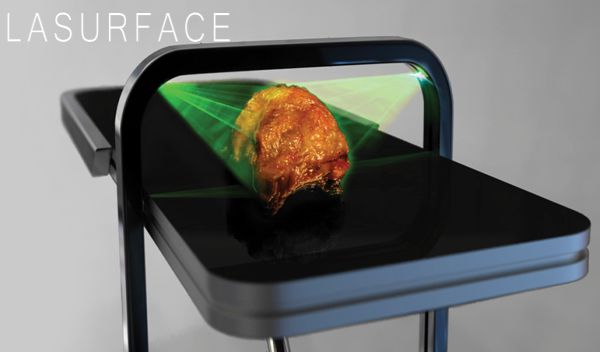 Kitchen is an important part of a house and needs to be fed with necessary tools like oven, dishwasher, stove, etc. Shrinking household spaces force dwellers to delete many necessary types of equipment from their houses. Kristian Ulrich Larsen has designed an ingenious tabletop, which serves as an oven, stove, dishwasher, tabletop as well as a sink. Christened Lasurface, the space-saving design, will be accepted by urban dwellers with open arms.
The product uses the properties of laser to cook food and clean utensils. The tabletop is perfect for domestic spaces and vows to perform a variety of purposes. Apart from cooking, the laser also performs the task of a knife, viz. cutting and peeling, and burns up peels. This means, extra utensils used for cooking and even dustbins can be thrown away from the kitchen. The attention-grabbing Lasurface can be used as a dining table once the food is cooked. This will save a lot of space that otherwise would have been consumed placing an additional table.
Lasurface's intelligent designing is here to give an all-new meaning to the kitchen area. It helps delete many kitchen equipments, without asking a user to compromise due to shortage of space. So, cook, cut, and clean with Lasurface.
Via: Idkul