A bar cannot find a better home than on a fridge door…no this is no hallucination but indeed a reality. LG has conceptualized an all-new refrigerator that houses a complete bar on its door. It's called the LG Home Bar. Just flip off the handy flop and there you are just a few inches away from your bar.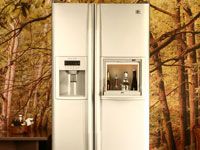 Apart from the bar the fridge also offers an easy to squeeze out ice and filtered water from the door-mounted dispenser…means you won't have to open that freezer and the fridge to look out for things again and again.
The best part about this LG wonder is that it saves electricity too…as you don't open the man door repeatedly, for the small door does half the work.
The LG bar seems to be the one stop shop for the wine connoisseurs….isn't? What are you waiting for now, work up for a chilled Christmas with LG Home Bar.
Via: GadgetCandy