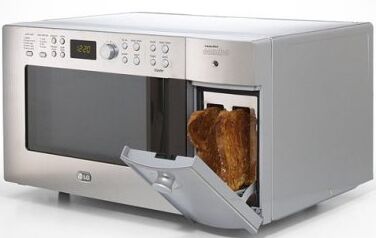 LG has come up with an intelligent kitchen appliance that takes away the hassles of having two separate units for toaster and microwave. Yes, the Stainless Steel Combination Microwave Toaster offers the two in a single gadget. Isn't great?
I wonder why anybody didn't think of combining the two long back…despite the fact that a microwave and a toaster are most of the times used together.
This microwave with built-in toaster gives you 6 auto cook options and a child safety lock. The controls are present on the key-pad present on the face, while the toaster has LED indicators.
The sleek steel body looks chic apart from offering a highly durable appliance that will serve in your kitchen over and over years.
Price: $139.99