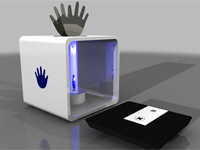 Mosquitoes appear no less than tiny blood sucking devils when they bite you during sleep. Mosquito repellents any precisely form be it cream or mats or a machine can be welcomed but not something like this Mosquito Box.
Brain child of designer Jian-feng, this box works as if a human being is posted in your bedroom crushing every mosquito between the clap of his hand.
Yes, the Mosquito box actually works this way, taking inspiration from the humorous and eccentric way we kill mosquitoes at times. But can you stand that noise all through the night. I cannot…so please keep it away from me.
Via: YankoDesign