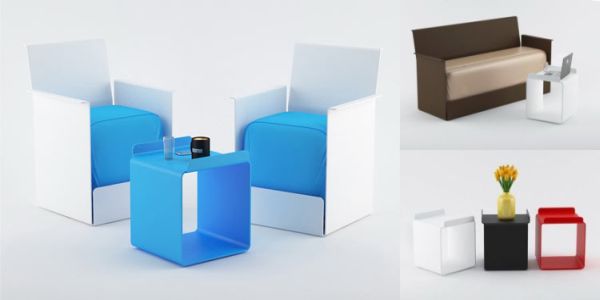 Minimalism reforms with the One Line collection by Russian furniture designer Maxim Maximov. The designs originated more from an artistic whim than a real bit of inspiration but the result is just as fantastic nonetheless. Trying to create furniture that would be formed from one continuous line, the artist simply used a single metal sheet to create a single piece of furniture. The fantastic collection was created simply by shaping, curving, and bending the sheet till they looked like chairs and tables.
The unusual shape of the designs secured the first place in a recent design competition held in Russia, which was judged by the likes of Ross Lovegrove, Oscar Zieta, and Vadim Kibardin. The extraordinary shape of the seating collection is a little reminiscent of matchbox furniture children make for DIY dollhouses but the cheeky designs are still wholesome enough to win our hearts.
The over-sized cushions in the design can be customized with any fabric or leather. Although the designer intends for the line to be used primarily in public spaces like hotel lobbies but they would look just as stunning in a modern-styled home. It may be tough matching everything else to the almost-iconic shape of One Line, but perhaps it would be a worthy investment for fifty years' time!
Via: Design Milk