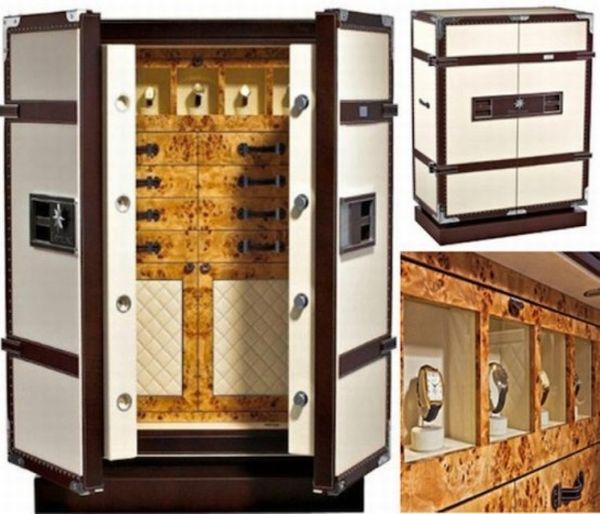 All of us are familiar with safe – meant for storing your money. Well, how about a safe for keeping your watches? It sounds odd, but yes, it's true. You might as well have box for everything, jewelry, keys, sweets and the like. Why not a box for keeping your watch safe? In fact it's not a box but something more classy, a safe. Yes, now don't leave your watches astray and keep them safely in this customized safe from Dottling.
Dottling has come up with this new initiative of a luxurious safe for keeping your watches. It is a classy asset to your home. And if you are a person with umpteen number of watches then this luxurious safe is what you need. From now on, you needn't worry about keeping your watches piled up one above the other. This safe, that looks more like a wardrobe on the inside, comes with cupboards and shelves to store all your precious watches. So if you want to find that white watch with a round dial to match your white gown, you needn't waste your time looking among the pile of watches. With this luxurious safe, watch keeping becomes interesting.
As the name goes, the safe is luxurious on the inside and the outside. What makes the safe luxurious is its leather stitched fillings, inlay doors, glossy lacquered burled poplar and five illuminated windows. This customized watch safe can store up to 210 watches in its own luxurious way on hand sewn cushions.
Every safe has a secret and this one is no exception. The safe comes with a secret compartment to store your valuables or most favorite and costly watch. And to keep it even more secure, the safe comes with an alarm system that will awake your senses when someone puts their hands on it.
One of the major advantages of this safe is that you can neatly arrange your watches in shelves just the way you keep your clothes in your wardrobe. This way the watches will be in perfect condition without getting tangled amongst the huge pile of watches and get ruined. A major disadvantage may be that it takes a lot of space, but it can be great attraction-getting furniture to your home.
This safe comes in white and chocolate color combinations which cannot be resisted. This is not the first of inventions of these German makers. They have also designed a safe exclusively for luxury timepieces called 'A Magnus for Azerbaijan'.
Via: Digsdigs