This grill set comes with a stove, barbecue and side tables. It has a sizable double barbecue box allowing you to char-grill for an entire group of people in a single go. There is one burner stove and two side tables made of bamboo. Known as the iron grill table set 3, it has been produced by Snow Peak. It is made from durable metals like steel, aluminum and the grill frame is of iron. The side table is made out of laminated bamboo.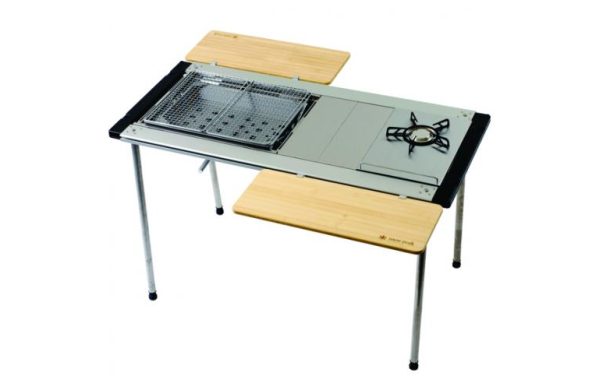 Carry it wherever you want, this three piece grill is mobile. Set in up in your kitchen, garden, backyard or carry it with your on hiking trips to enjoy juicy roasts. It is a great equipment for your fishing trips also. It weighs about 50 lbs. It is not only mobile but also quite compact. Despite fitting in sufficient cooking apparatus, this table will not take up a lot of space. It will not occupy too much storage room either. Fold it after use and stash it away in any nook around the house. Put it inside the canvas carry case it comes with before storing it away.
It is very easy to barbecue with this set as the grills are at a comfortable height. Push a chair or stool besides this cooking equipment and sear away. You can also use the table for dining. The height is just perfect for people to lounge around it. You can set out food platters, drinks or other rations on the side tables. People can help themselves to the grub. The table stands 26 inches tall.
The table also comes in handy while cooking food. You can slice, chop and sever food easily on it. It makes a purposeful island for food preparation. Dress the salad or garnish the serving bowl and plates while the meats sears away. It is about 42 inches in width, thus quite commodious.
Via: Snow Peak