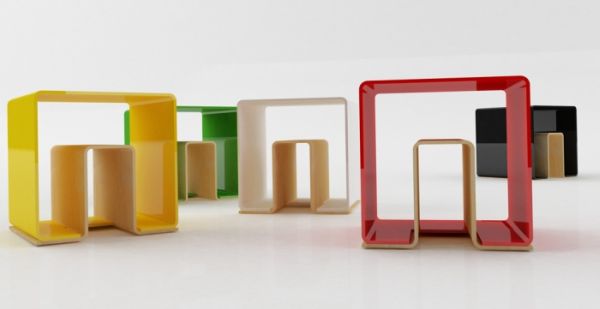 Looking at the modern-day requirements and by adopting an environmentally friendly approach toward creating a very different kind of a green product, architect Vladimir Paripovic has successfully shaped an innovative idea into this product – the UN STOOL, which is a multipurpose stool for seating and other space-saving needs. As a studio PARCHITECTS project, Vladimir created this design concept to be submitted for mattiussi ecologia, which is the first international competition organized for Eco-friendly furniture design. The UN STOOL's concept has been based on the idea to create an Eco-friendly simplicity furniture for multiple functions.
This piece of furniture has strong accent on the folders while offering free space that can be utilized to put some household or decorative items, and thus some extra space can be created even in a small room or setting. For confined spaces, this is an ideal seating and decor option. You may also use it to store your books, papers and vases. In daily activities, its intelligent design encourages the logical use of standard household furniture. The UN STOOL's design includes two different pieces with one sustainable plywood piece in light natural color shade, and another colored piece made of 100-percent recycled eco-plastic materials. The Eco-friendly waste materials used to create the bigger colored piece include flower pots, detergent bottles, milk jugs, plastic bags, etc.
The UN STOOL is crafted out of plywood and eco-plastic that provide the product a durable life so users may never need to replace this product. This stool is an adaptable furniture that can be used in just any nook and corner of your house. You may use it as a chair in the garden or as a stool in the living room. It is usable as a playful object in your children's room or as a shelf in the study room or terrace. The stool can be rotated and altered per your requirements and moods. Available in several bright colors, the UN STOOL not only offers a stylish touch to your room but also raises a helping hand to the environment.
Via: architect Vladimir Paripovic / studio PARCHITECTS