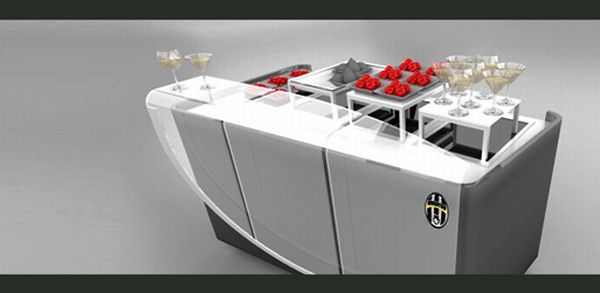 With urban dwellings becoming compact and the increasing demand for space-efficient home products, designers are coming up with smart space saving compact and modular designs. Kitchens too are getting smaller, they want their appliances to be handy and compact. The mobile cooking buffet is one such invention. The cooking buffet is a new concept of mobile refreshment stand, that could be taken around anywhere in your home.
Cooking buffet transforms itself to a miniature living table, which shall be fully equipped with cook's favorite cutlery and a space for showcasing the delicious dishes he makes. This can be taken around and people can choose their favorite dishes from the table.
This incredible table has been designed by Giacomo Abba of the Kobasa creativity in Turin, Italy. It has been designed after research and feedback from the users about their experiences, creating a structure that represents minimalism. It consists of an aluminum structural frame to which they have attached panels made of HPL which are lightweight and hygienic. The system provides high impact resistance and its light-weightedness works in favor of convenience. The worktop is made of Corian material which is a hi-tech material that guarantees lightness and strength to the frames, and the counter supports plexiglass screen printed and embellished by the backlight which highlights the interplay of light and reflections.
This ergonomically precise kitchen maker is pretty simple in its design and pure in built. A very handy addition to your trendy interiors.