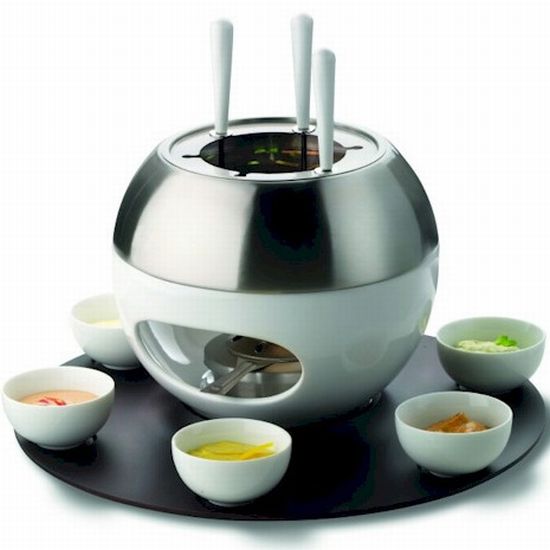 Healthy grilling is a wonderful way to get the guys cooking some good fresh food while enjoying the fresh air. Seems grilling is not just restricted to outdoors but can go far beyond! What about grilling on the table? I might be sounding odd, but guys its true! Brain child of Fabian Zimmerli, Mona will be a delight at many a dinner table.
Features:
•Brushed stainless steel pot.
•Brushed stainless steel fork bracket.
•6 small porcelain bowl.
•Recheaud ceramic.
•6 forks with white aluminum handle.
•Kombi-Brenner Combined brushed stainless steel burner.
•Turntable from acacia wood.
•Teflon-coated aluminum grill plate.
•Strom Works without electricity.
What's different? I think its cool spherical design, its elegant look, its wonderful features, all fuse together to makes it a really distinctive tableware.
Price and availability: You can get this cool tableware for just € 108 at questodesign .
Via: Appliancist, Tipstrends