Technology is everywhere and it won't be strange to hear that it is about to enter your coffee table as well. If you love your gadgets more than anything and love them to give you company when you sip coffee/ tea, while reading the newspaper or lounging on your couch besides a table, then Mozayo's luxurious home furnishing will make your eyes do a cartwheel in surprise. Fusing hi-tech features and modern designing, in order to present it in a sumptuous packet has given birth to high end furniture items from Mozayo.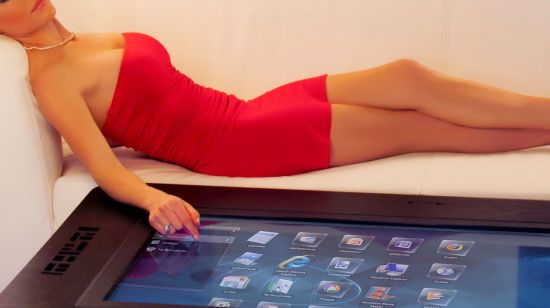 The bewitching creation from Mozayo, will be presently created in two forms: the Premium Series M32 and the Professional Series M42-Pro. The water resistant designs are such that it will pull a lot of crowd as people get immersed in its sheer exquisiteness. The Premium Series M32 will prove to be a modish addition as it swanks of its technological efficiency. It is a purposeful creation, which has a big 32" Liquid Crystal Display. With a resolution of 1377×768 it vows to deliver crystal clear image quality when it comes to viewing multimedia content that too with a 178 degree angle, which puts on show a full view.
The functional table is great for both homes as well as offices as it unfurls a visually magnetic experience. The practical design features a premium Dell commercial grade system and is further supported by an Intel i5 Quad Core 2400 processor, 4GB memory and 250 GB hard drive. It comes embedded with IR Touch technology that let a user savor the magic of an absolutely incredible responsive and intuitive multi touch experience. It perfectly functions under all kinds of ambient light environments, complete with the presence of up to 6 simultaneous touches. Connectivity will never be an issue with the presence of Bluetooth, Wi-Fi, USB, Mic-in, Ethernet and Audio-Out ports.
But, if you need some extra professional touch then the Professional Series M42-Pro won't disappoint you at all. With an enormous 42" Liquid Crystal 1080P high definition display, it means some eye rolling offering best image quality. Keep a track of all that happens across the screen with a 178 degree viewing angle, which is absolutely stunning. 500 GB hard drive and 8 GB memory along with an Intel i5 Quad Core 2600 processor is what makes the plug and play unit truly whimsical. IR touch, connections via Bluetooth, Wi-Fi, USB, Mic-in, Ethernet and Audio-Out ports makes the experience enriching.
Both the designs come smothered with true multi touch features and have been designed by MSTRF Design Studio. The LCD will be protected by a covering of thermal treated, tempered glass along with Anti-Reflection (AR)/Anti-Glare (AG) glass overlaying its LCD screen. The table is a true call of luxury and will give a simple table the power of touch and state-of-the-art technology to keep users engaged like never before.