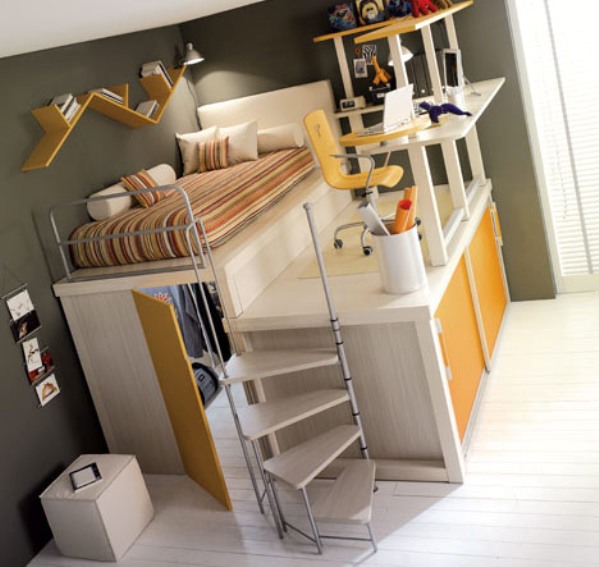 These days it is becoming a very expensive proposition to invest in big houses with plenty of open space. Big metropolitan cities are now known for small compact apartment systems – which is the optimum way land is utliized vertically. Similarly, urban dwellers try to make their houses as clutter-free as possible, but there are certain pieces of furniture that simply cannot be ignored. Now there happens to be a solution to that as well – with furniture houses rolling out space-efficient furniture for the urban dweller who wants furniture to serve more than one purpose. Here are a few of such multifunctional furniture designs that guarantee space in your small abode.
1. Lofted Space-Saving Furniture for Bedroom Interiors by Tumidei
Tumidei – a furniture manufacturing company is known for making amazing space-saving designs for the entire room which actually does not come heavy on the pocket. Their lofted bedroom creations are amazing – catering to specific requirements of the customer – and can make your bedrooms look spacious. Tumidei has designed a lot of room interiors specifically for teenagers and small children using material and colors that are age-specific. They have tried to fit everything in with consideration given to the age of the people who will be occupying the room. These great designs work wonderfully and make you wonder how easily everything has fitted in a small-sized room.
2. 'Land Peal' – Small Space-Saving & Flat-Pack Furniture 'Mat'
Designed by Shin Yamashita, the 'Land Peal' basically functions like a carpet or rug when not in use – however, this rug is magical because it contains a secret chair, a hidden desk and other great things inside its folds. This mat folds up flat and can then be folded up in a many ways in order to provide various seating, lounging and even work spaces. Whether you want a chair to relax on or a desk to work on – a few flips here and there and voila you have it ready in no time! The Land Peal would be an asset to any room – particularly for the kids who enjoy doing things on the floor.
3. Home Office Desk & Storage Idea by MisoSoup
MisoSoup's Home Office Desk & Storage concept is a visual treat with its utter simplicity and great functionality. The entire design comprises of a single strips of wood that is curved around to create a study table and then the wood travels up against the wall to form a bookshelf/storage loft. This amazing space saving furniture can smugly fit inside any room as it occupies minimal space.
4. Inova Sofa-WallBed
The space efficient Sofa-WallBed by Inova is an amazing way to incorporate your bedroom in your living area! During the day time, you can let the sofa occupy the center space and during the night, the wall containing the bed can be brought down and the living room becomes your comfortable bedroom. The design is available in four sizes: twin, full, Queen and King. Inova has created various other alternatives to the Sofa-WallBed and the customer can modify according to requirement – as the bed can be combined with a wardrobe, office furniture, cabinets etc.
5. The Ledge by UrbanCase
This simple wall mounted box called the Ledge is a design by UrbanCase wherein this simple object can be folded down to reveal a drawer and tray which displays its dual purpose. This furniture is perfect for a small room or a guest room as it can be used as a mini-desk along with a drawer that can store some important stuff as well. The appearance of the Ledge is very modern and since there is nothing at the bottom of it – therefore a chair can also be placed below.
6. Breakfast Bookcase by Sakura Adachi
This simple looking square-patterned bookshelf looks very neat with shelves arranged in box-like shelves. But that is not all, these shelves actually are the contours of a table and two chairs – the other function of this amazing bookshelf! There are not screws and hinges and the furniture can be put together to make the shelf or be pulled apart to function as a table with two chairs. This design is very contemporary and would be perfect for saving on any dining space.
7. Expandable Dining Table also turns into a Compact Kitchen Island by Phil Crook
Turning kitchen working area into a dining room is a great way to save on space – also, it is a whole lot manageable and easier as cooking, serving, eating and cleaning are done at the same place! This great design has a regular kitchen island, whose sides on wheels can slide out effortlessly to transform into a full-fledged dining table. The design is very neat and looks impressive with its wooden color.
8. Inova™ Table Bed
Now you can turn your dining area into your bedroom by night with the Table Bed by Inova. This brilliant space saving furniture design has a dining table against a wall that conceals a bed. A perfect buy for people with small houses – this bed is a great asset and is very aesthetic- besides, it is also very easy to use.
9. Black to White: Coffee Table Transforms to a Leather Chair
Aptly names Black to White – this black coffee table magically turns white in color when opened up into a leather chair. This modern design is amazing for any home and its dual function is concealed perfectly by its contemporary exterior. The structure is very simple as the base is metallic with chrome and the inside in upholstered in leather.
10. Flip-Flop Table Turns into a Chair by Aissa Logerot
This space-saving furniture is a very modest one that has an aluminum frame. This Flip flop table can be converted into a chair, a side table or even a coffee table. The size of this furniture is compact and it does not require a lot of effort to transform. It has a very modern look and is very durable as well.