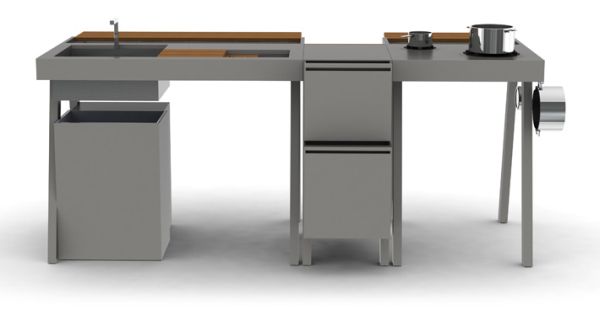 Imagine when you had a messy kitchen and wished that you had a system you could take outdoors to ease your cooking! At such times, there is a need to have an all-in-one compact kitchen system, such as the N1 Kitchen System designed by the interaction design expert Kyle Thacker. This system is a solution to several, if not all, kinds of kitchen space and work alignment problems. This kitchen system is quite interactive, as well as portable to serve your different requirements through a single efficient unit. This system has its focus on outdoor usage in various situations, as when you need a base camp to work on, or when you go out to a place where there is insufficient food supply and no kitchen available.
N1 Kitchen System has three elements that include a stove system and a unit for storage purposes, along with the sink and preparation area. Under pressurizing conditions, this kitchen system cuts the need to perform unnecessary actions by creating helpful interactions. Inspired by teams like National Geographic explorers, this system is made to be portable and so flexible that it can even be accommodated in a container by folding and placing it in there! It thus can easily be transported anywhere you want. Additionally, the system's portable feature is enhanced by designing it to be least technical while running on minimal electricity.
N1 Kitchen System's sink and prep area supports the task of healthy cooking even under a demanding situation. This area includes a cutting board that is self-proportioning. Its interaction makes item proportion easier for not just a single person but a whole team too. The user chooses the number of people to proportion for, and the board visually divides the available surface so it equally serves everyone. The cutting board weighs the items in order to proportion them.
Another unit, which is the storage unit of the kitchen system, works in an amazing manner to contextually maintain a proper supply of food. As the x-ray concept works, the same way goes the process of this storage unit that allows the user to visually keep a check on their food stock by an automatic alteration in the unit's surface opacity. When there is a diminished stock of food, the red glow appears to reflect that the unit can be restocked. The change in the opacity gets reflected through a smart glass as and when the weight inside the storage unit gets lowered. When it is restocked and the reset button is pressed, the system gets reset.
When it comes to the stove system, there are some additional beneficial features you may get to check out. The most stylish feature that helps you get rid of the old-style and breakable knobs and dials, is its interlocking system. The specially designed pots have the capability to get interlocked with stove burners, and while you rotate these pots in a circular manner, the temperature gets controlled. The interlocking mechanism also helps maintain the pot's balance on the burner specially under windy conditions. The burners can also be lowered or raised so a seamless structure gets created when cleaning needs to be done. Thus, this portable N1 Kitchen System constantly retains its focus on the best way of interaction between the individual and the system.
Via: Kyle Thacker