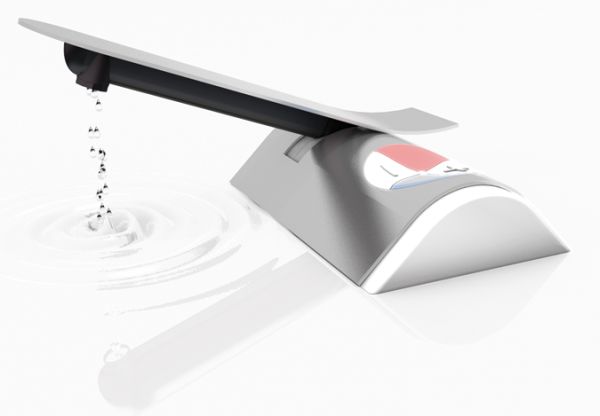 Bathroom is usually an area that helps an individual to get a refreshing and pepped-up feel through its stylish touch and cool equipment. As an attempt to provide a similar touch and feel, Lukas Waegli has come up with a beautiful and elegant design for a bathroom fitting in the form of ELANCE. This is a specialized bathroom fitting offering a contrast of an elegant finish and design on one hand, with the technicality in its shape and the visual effect of flowing water on the other. It can be a charm to have in your bathroom as you glance at its appealing chrome steel finish, blended with an illuminated translucent plastic body.
ELANCE's base is crafted in the form of a translucent body that is plastic-made, with a bended plate on top that is made of chrome steel. This whole base element gets a brighter look and cool moon effect when emphasized by a translucent plastic body that is further illuminated using an off-white light. As an add-on to the complete effect, there is a balancing action displayed by bending the chrome steel plate at its tail end. This plate also acts as a cover to the actual element for drainage.
The balancing action gets highlighted by the slightly concave shape given to the control element. This control element is also kept translucent in sync with the base element. Thus, there are contrary geometrical figures and similar effects utilized to stylize the complete accessory. Additionally, the control element offers water flow and temperature adjustment settings through its four different parts that are swiftly controlled by a mild touch. ELANCE may suit the requirements of any type of bathroom style and finish, as its close-to-perfect look fits very well with an elegant, as well as a bright decor.
Via: Waegli//Design