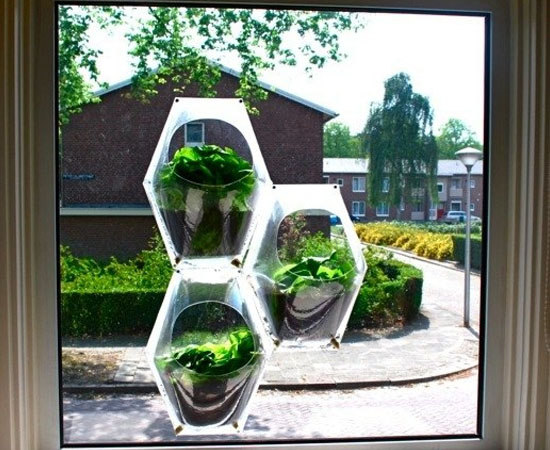 The concept of Window Farming can be understood as an alternative way to practice urban agriculture, where there are no gardens or balconies around. With the urban spread engulfing prime agricultural lands, Vertical Window Farming seeks to provide some much-needed respite. Herein, modular transparent pots are attached onto the window, where soil is placed and vegetables can be grown.

Usually practiced using a set of plastic bottles, Mexican designer Jose-de-la-O has come up with a sleek alternative instead. The new system is based upon polygonal plastic recipients, which are stuck to the windows. These structures have a built in drainage system that helps pour remaining water into the connected containers.
Being modular, this setup enables you to build a 'farm' of your desired size. With the container joints taken care of, there's nothing else to worry about. The soil too is separated from the drainage using a small tray, therefore eliminating the danger of loss. The remaining drainage pipes, which are not in use, can also be cancelled via a small wool cap.
Jose-de-la-O's system is more compact to enhance functionality, and also scores better on the design front – the only disadvantage stemming from its use of virgin plastic structures instead of recycled water bottles.
Via: Treehugger