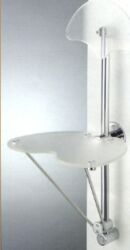 Don't you sometimes feel the need of a small seat under the shower taht would give some relief to them tired feet?
If yes, then Bristol and bath has the solution to your need in shape of this cute Shower Seat that's wall mountable and folds up when not in use. It comes as a great help in case you have some aged people in your family who cannot stand for too long under the shower.
The chair is designed to bear around 300 pounds of weight, so you don't have to worry if you are a bit towards the heavier side.