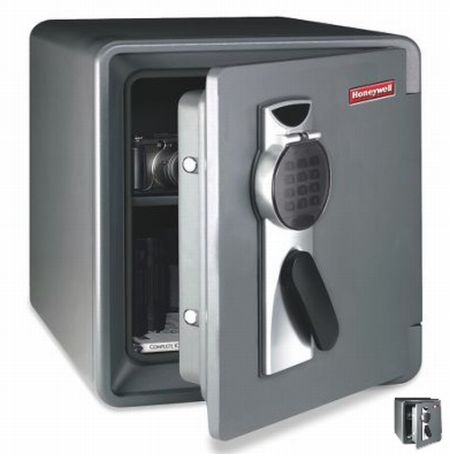 Want to store all your precious possessions in a safe and secured place at your home? Try out the new Waterproof Fireproof Safe. In addition to the usual benefits of a safe, i.e protecting valuables from fire and theft, this new safe, being waterproof, also safeguards the items in it from water, flood etc. as per statistical reports of the government, damage of property from fire and flood are equally probable. The safe comes with a ceramic interior, which is also heat-resistant and can bear up to 1,700° F temperatures for almost an hour. High security features include four steel locking bolts and hidden pivots completely seals up the inside of the safe. There is a back-lit digital clock, which can be configured to any 2-to-8-digit pass code for further security. The clock has a hinged cover, which is also waterproof!

The safe requires four AA batteries and you will be supplied with an emergency battery package as well. This will help you open the safe easily if the batteries inside stop working. Additional features of the safe include a large interior, detachable, variable shelf and a hanging key rack. The space within the vault is large enough to store important documents, jewelery, and other valuables.
Dimension of the interior of the safe measures 13 3/4″ H x 13 1/4″ W x 12 1/2″ D and the exterior measures 18″ H x 17 3/4″ W x 19 3/4″ D. The product also comes with a lifetime guarantee. Priced reasonably at $299.95, it is an item of great utility value and contemporary features that are easy to operate. This is surely a must-have product for all homes.
Source: hammacher