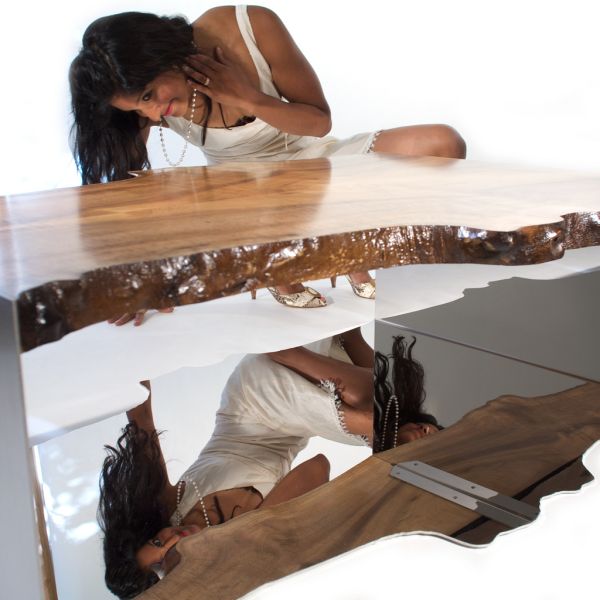 Everything about this design screams 'TRYING TOO HARD' to be conceptual when all the while you are just commercial. Looks like the creators have a guilty conscience. A word of advice to them, 'when the product is commercial, don't try to give it intellectual layers, the practice ends up confusing the buyers completely'.
Take the name for example. The table is called 30403 coffee table. On the face, it seems like a product code followed by a description. But no! The designers have spent more time working around the name than probably they have on the product itself. They claim the name '30403' is a palindrome of the alloy specification (304). And this is important why? Apparently it is a 'further play on reflections'. Phew, I don't even want to talk about it anymore. I just hope the guys get my drift.
Moving on to the product itself, generally it is the first thing I do but in this case … well! It is a high sheen or what is technically called mirror-polished stainless steel coffee table with a bookmatched Oregon myrtle slab on the top. The mirrored stainless steel surface reflects both sides of the slab's grain creating 'trippy and stunning' optical illusions. I can see where the concept of reflection originated from!
The tables measures 47″W x 33″D x 16 1/2″H, reasonable dimensions for a coffee table. Overall, I am not too satisfied and it's not just the name. Looks like there is a lot of confusion even in the designing process of this coffee table. It is neither a futuristic design with clean lines (a sure shot winner with stainless steel) nor is it a nostalgic ornamental wooden piece. It is a design gone horribly wrong as I see it. But you can go for it if you like palindromes too much!
Via: Fixedesign