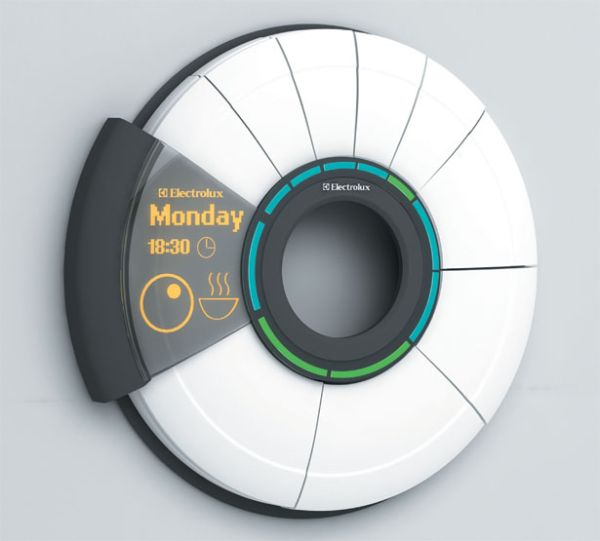 When it comes to concepts in the field of food preparation, we don't really expect any of them to be very realistic since cooking isn't rocket science to begin with. But to be honest we don't expect concepts as far-fetched as this one to make it into respected forums either. The Orbital Food Organizer promises to simplify your cooking needs via a one-stop one-button device. But you really have to look closely to know that the old saying 'if it seems too good to be true, it probably is' stands true for this concept as well.
The device conceptualized by designer Orcum Erdem appears to be something right out the Hanna-Barbera sci-fi cartoon series. The Jetsons, with its tall claims of reducing your kitchen chores down to the press of a button. The microwave cooker and food storage combo claims that it uses a smart phone app that helps you to control your food storage over the internet, cook your food for you, try out new recipes, store the cooked food in a removable container with a bio-degradable, single-use lining that can simply be tossed in the bin once you're done eating.
That isn't all, the device also claims to save you a bunch of money that you would otherwise spend on maintaining dishes, ordering in, eating out and buying frozen food, etc. When you read this description, you start to imagine a miracle-working gizmo that possibly uses telekinesis to transport pre-washed, pre-chopped veggies plus all kinds of seasonings plus all kinds of sauces plus all kinds of pastas and breads plus all other stuff that you expect in a meal, right into your food organizer so that all you have to do is simply press a button on your phone and have a fresh, nutritious meal ready for you when you get home.
Sadly, not only does the cooker skip out on the details on how it plans to do anything more, than be a fancy food container/microwave/refrigerator, it also skips out on the details on how simply selecting a recipe (the images provided by the designer show a person having the option of selecting things like eggplant parmesan and pesto sauce) would result in foods grinding/shredding/turning into separate sauces and gravies without any help from the user.
Via: Tuvie