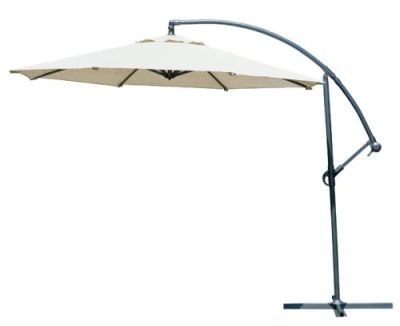 Home gardens and patios are great place to hang out with family and friends, but sometimes hot or rainy weather prohibits us from doing so. Patio Umbrella's can be very handy in such situations. While buying patio umbrellas there are a number features to look at like coated material, weight, flexibility, and UV protection in addition to the color, design, and other aesthetic aspects. If you are going to buy a patio umbrella this summer, consider this list of ten patio umbrellas available in the market. This catalog offers you a multicolored concept of patio umbrellas, while listing the top 10 umbrellas with prices, ratings, USPs. Read on to choose the best for you.

1. Coolaroo 11 Ft Round Patio Umbrella with 3 Position Tilt Aluminum Pole, Smoke
BRAND : Gale Pacific
PRICE : USD 122.37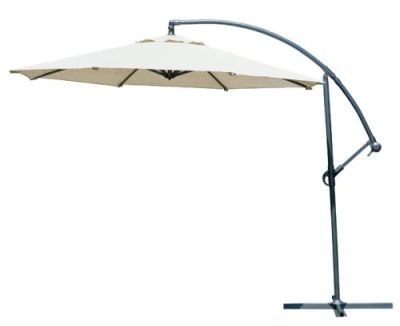 This large, 11 foot, round, smoke, lightweight patio umbrella is a summer special for you. This umbrella is designed with unique Coolaroo knitted fabric, which is known for keeping the temperature down and environment cool and protecting from dangerous UV rays. Coolaroos knitted shade cloth fabric has the capacity to block up to 90% of the sun's dangerous UV rays and allowing air to circulate and keep the environment underneath much cooler. It is color fast and manufactured from high tech fabric, which saves your umbrella from being rot or molded and thus maintains flexibility and strength even when exposed to the sun for long periods of time. Moreover, it is easy to clean. The three position tilt aluminum pole provided along with this umbrella helps you in adjusting it with different shades in the day time; it is corrosion resistant also, a healthy sign for its long life. It comes with a five year warranty against UV degradation. Overall, it is a sturdy and supreme patio umbrella for prolonged use over the years.
USP
It is a sturdy umbrella, which comes with UV protection and is absolutely fit for long use over the years.
PROS
Fine fabric and light weight
2. Coral Coast Sunbrella 13 Ft Rotating Offset Umbrella with Tilt
BRAND : Coral Coast
PRICE : USD 89.99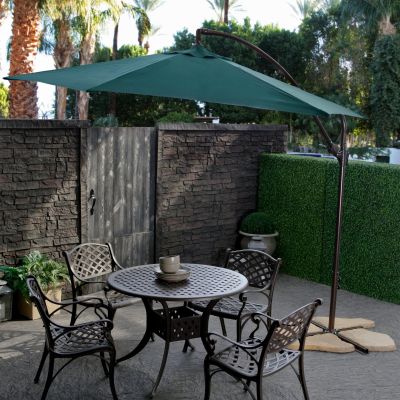 The Coral Coast Sunbrella promises a beautiful oasis for you with a coast of 9 ft. This large offset umbrella is just right by the pool or spa, or on the patio. You can enjoy family meals or conversation with friends under the cool shade of this Coral Coast offset umbrella. And if you want an additional shade, add this umbrella to larger outdoor dining tables. The sturdy aluminum pole is finished in a nice, neutral bronze color and topped off with a spun-polyester cover in a variety of complementing colors. The canopy can be conveniently opened and closed by using a crank-lift system. This grandly scaled umbrella can provide shade for a dining table up to 54 inches long.
USP
This Sunbrella comes in several attractive colors like beige, forest green, and tuscan.
PROS
It comes with a sturdy aluminum pole to make it fix easily.
3. 8 Ft Deluxe Beach Umbrella Combo Set
BRAND : Tropical Touch
PRICE : USD 41.7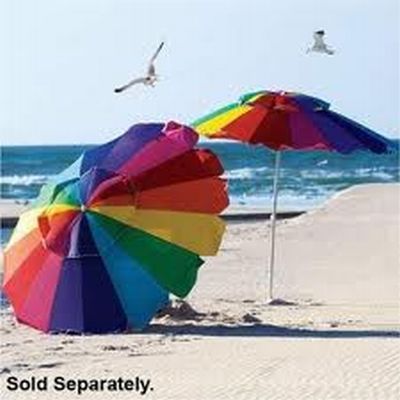 It's a tall umbrella with a diameter of 8 foot. This Deluxe Beach Umbrella brings the charm and the lifestyle of the islands to the beach or adds a tropical touch to your home. This rainbow colored umbrella is a perfect addition to any backyard or family trip to the beach. The features include a vented canopy, and an adjustable tilt with a protection of UPF 50 plus. An aluminum drive handle is provided for easy adjustments. It's a sturdy design quite convenient to use with a style and its superior quality assures long lasting use. The umbrella comes with a storage bag for the shade.
Sixteen fiberglass ribs provide durability and extend the protection during windy days and the adjustable metal tilt helps to track the sun and maximize the shade for you. The aluminum drive handle is designed for easy adjustments; Teflon coated weather proof polyester cover with vented canopy facilitates better air release in strong winds.
USP
The easy tilts are for flexible adjustments to track the sun and maximize the shade for you.
PROS
Teflon coated weather proof polyester cover
4. 6 Ft Solar Guard Umbrella – Wind / Water Resist UPF 150
BRAND : Solar Guard
PRICE : USD 59.99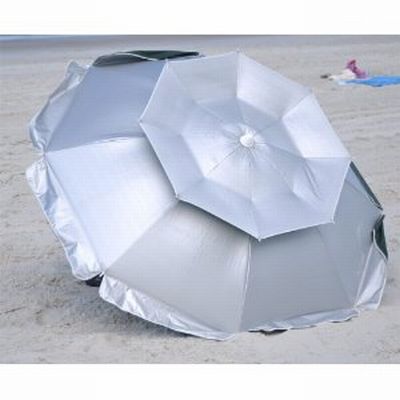 This 6 foot solar guard umbrella by Solar Guard comes with the benefit of two. Its construction offers a dual canopy design, which is a pioneering step in itself. It allows severe wind gusts to easily escape for stability as compared to other umbrellas with the standard vent. This is a premium item in itself because it is designed with the concept of Solar Guard and its durable reflective micro weave fabric provides cooler shade by 15 degrees. It is good in strength and moreover, corrosion resistant. The fiberglass ribs along with this umbrella easily outlast steel or wood ribs. You can say it is the only beach umbrella with a high UPF of 150, which keeps the temperature cooler for you. The unique snap button is designed to lock the upper and bottom poles so as to prevent the poles from opening during windy periods, unlike most other umbrellas.
USP
This solar guard umbrella has a feature of three positions i.e tilt, closure strap, and (can be used) in the form of a carrying bag.
PROS
Light weight design
5. Garden Creations JB5678 Outdoor 9 Ft Umbrella Table Screen, Black
BRAND : Jobar
PRICE : USD 27.48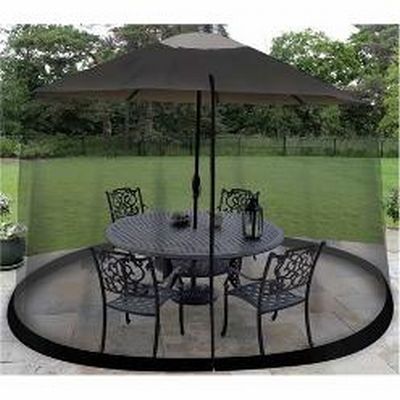 The Garden Creations outdoor umbrella comes in the diameter of 9 foot with a classic black color. It can be used on bigger tables as per your requirement and convenience. It is a product for outdoor night entertainment without pesky mosquitoes. The net canopy designed with this umbrella keeps the pests away from bothering your outdoor fun or flies nipping at your food. You can enjoy the benefits of a screened porch for a fraction of the cost. Now, say goodbye to pesky mosquitoes, flies, bees, wasps, and other flying insects with this umbrella, as you can enjoy the outer view through the mesh.
USP
The net canopy is something that defines its uniqueness in itself and allows you to enjoy the night with this outdoor patio umbrella.
PROS
The wide diameter makes this umbrella fit for big tables as well.
6. Rio Brands Deluxe Patio Umbrella
BRAND : Rio Brands
PRICE : USD 19.69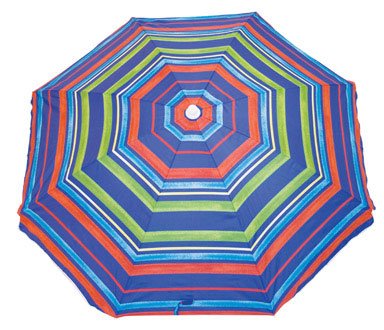 The RIO BRANDS Deluxe Patio umbrella is a light weight accessory for the purpose of both patio and beach. This can be tilted with the changing angle of sun rays; the polyester fabric of 300 D with a canopy diameter of the 6 ft allows a wide use of this umbrella for you. It is excellent in durability. The aluminum coated steel pole under this umbrella keeps the atmosphere cool for you even in tough sunlight. This folded umbrella with multi-colored stripes in blue, green, and orange gives you a feel of beach at your home. It is also provided with a closure strap to keep it in the folded position. For anchoring the umbrella, a sand anchor is recommended .
USP
The multi-color stripes give a feel of beach to you with an air vent feature and UV protection.
PROS
A sand anchor is provided separately.
7. New 9 Ft Burgundy Aluminum Patio Umbrella W/ Crank & Tilt
BRAND : Best Choice Products
PRICE : USD 24.95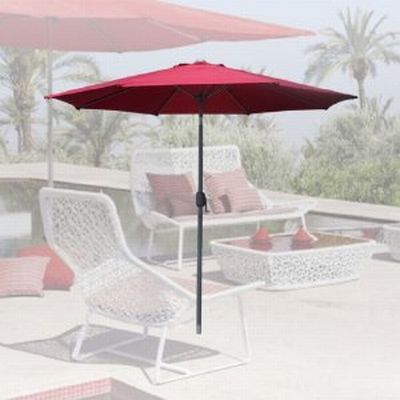 This could be a good choice if you are thinking to buy the best patio umbrella for your lawn. This is offered by Best Choice Products and is a blend of attractive style with a tilt and crank feature. It's designed to keep you cool and more comfortable, enjoying your time outdoors on a hot day without being hot while being protected from heat and harsh sun effects. It is 7 ft.10 inches tall and has a diameter of 9 ft and comes along with a water resistant quality. The burgundy color can turn your evening brighter and enthusiastic. It can be rotated up to 180 degrees and the polyester shade with which it has been designed is capable enough to perform heavy duty for you. Moreover, it is air vented and allows the air to circulate fully, so as to keep it cool even in the hottest season.
USP
Easy crank mechanism with four tilting angels to rotate it flexibly allows easy accommodation according to your desire.
PROS
Round the year use
8. Ragan Meadow 8.5 Ft Square Offset Umbrella With Solar Lights, Black
BRAND : Southern Patio
PRICE : USD 376.51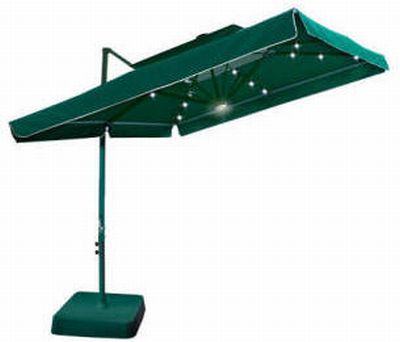 Comfortable on the deck or patio from sun-up to sunset, this one is a pleasant shade during daytime and a glowing and wonderful cordless light in the evenings. The center pole inside this allows for maximum shade as well as coverage and the heavy duty steel frame makes it much convenient to use along with a powder coated finish crank for easy lifting. The capability of 360 degree rotation allows you to easily accommodate the umbrella as per your need. Polyester fabric is used in its manufacturing, which makes it fit for use in all weather. It comes with a one year warranty in two neutral colors of hunter green and praline white. In a nutshell, it's a round the year accessory for your outdoor purposes.
USP
Its 360 degree rotation allows you to customize shade according to angle of sunlight or rain flow
PROS
Heavy duty steel frame
9. Southern Patio 9 Ft Solar LED Umbrella
BRAND : Southern Patio
PRICE : USD 99.99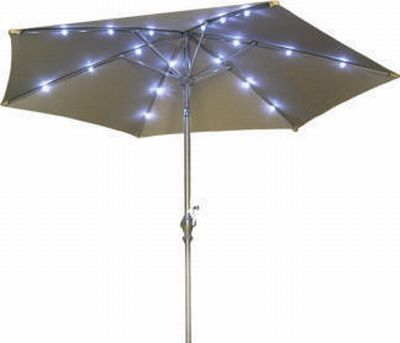 The Southern Patio 9-Foot Solar LED umbrella has a unique feature to light up the night. It comes with Southern Patio 9' Aluminum and Steel Solar feature. The light control in this umbrella operates on eight LED hub solar lights, three LED lights per rib with a total of eighteen LEDs. Now your outdoor patio table can be used for evening dining, conversation, or table games after the sun goes down on those warm summer nights. Solar batteries located on the umbrella top allow you to charge these LED lights fitted in daylight hours, so as to provide light for your night hour enjoyment. The fabric is water and mold resistant, which makes the rains even so special for you.
USP
The LED lights fitted in this umbrella can make even a cloudy sky appear starry.
PROS
Chargeable lights along with water and mold resistant quality
10. Blue and White 8 Ft Beach Umbrella with Tellon Coated Weatherproof Polyester Cover and Carry Bag / U
PRICE : USD 39.99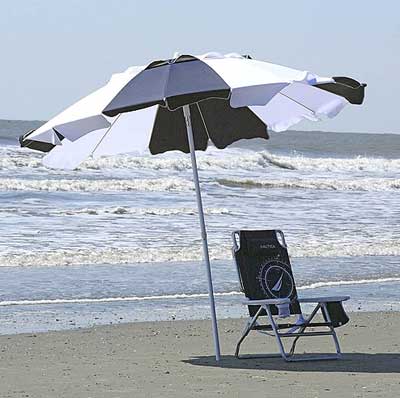 This blue and white umbrella is a light weight 8 ft. umbrella to make you feel the beach at home. Moreover, it's rust free and designed with an anodized aluminum pole. The sixteen fiberglass ribs provide durability and extended protection to you under this umbrella. An adjustable metal tilt is to track the sun and maximize the desired shade for you. It comes with a Teflon coated weatherproof polyester cover and a vented canopy for better air release. It provides you a carry bag for easy transporting and storage. It's the ideal one for your home.
USP
This umbrella is very portable and handy, as the carry bag along with it allows you to fold it flexibly.
PROS
Fine polyester is used in its manufacturing.