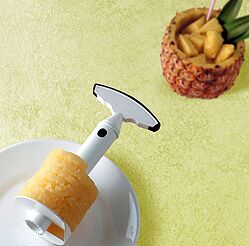 All those who love having fresh and juicy pineapples must be aware of the pains and effort involved in peeling it.
So to do away with that pain and hassles we've brought the Pineapple Easy Slicer that will make peeling and slicing a rather simple and fun thing.
With Easy Slicer all you have to do is just screw in the slicer at the top of the fruit and when you'll pull it out, fresh edible portion of the fruit will be there to eat, sans any fuss or mess.
Available at Smarthome for $14.99