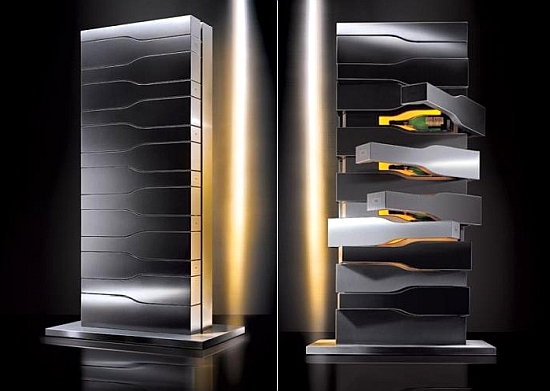 This looks like a piece of equipment stolen out of either a 'Bond' movie or most likely a fallen piece of the Matrix. But this is a tower of champagne that allows you to store and drink from this structure of steel. It is Porsche's creation of indulgence and pure delight. It can store up to 15 bottles of champagne or I suppose anything else you put in the bottles and stuff inside it. It looks cool and it would not scream out to anyone that you are willing to get drunk this instant.
Only 15 of these towers have been designed by the elite team of Porsche for Veuve Cliquot. They are really modern and offer great storage due to the wonderful spatial designing of the tower. Apart from the sheer look that would be enough to blow anyone off their feet (& obviously the stuff inside), it is very space conscious. It is of course not available for people as only 15 of them are made for the moment.
The design is both unique and special. Expect a Michael Schumacher or Fernando Alonso to own one of these to put all the champagne they ever won into it. But then, knowing the way they celebrated each race win, maybe they really don't have anything left. I'm sure plenty out there are waiting for this construction to hit the market with a price tag. That might be highly unlikely, but even if it does, expect the price tag to be as breathtaking as the design itself.
Via: Gizmodo