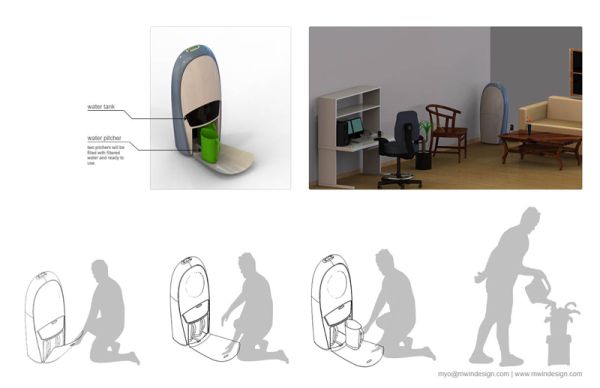 This concept dehumidifier designed by Myo Win is very handy and portable, therefore it can easily be carried around. The functional purpose of having a dehumidifier is to extract the moisture/humidity from the air. However, in this version, the warm air is pulled into the dehumidifier and is then passed through cold coils to facilitate condensation of the moisture present in the warm air. The water that is produced through condensation is then collected in a water tank. This water the passes through a filtration process and is collected in a pitcher. The water that is produced inside the dehumidifier is pure enough to be used for cooking purposes and also for water plants and other household needs.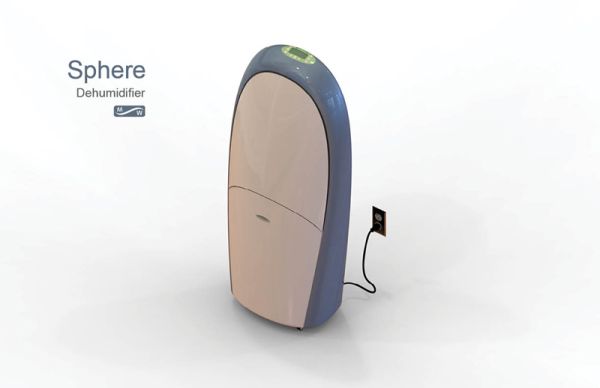 Many people use dehumidifiers without actually being aware of the importance of the products. Humidity levels are very crucial to our well-being and we realize that excess humidity in the air produces difficulty in breathing to production of molds – and too little moisture in the air is also not good. The dehumidifier functions to bring down the level of moisture present in the air to an optimum level. A lot of common allergens also flourish in humid conditions and can lead to a host of respirator and health problems such as allergies and asthma. Furthermore, people living in wet climate have houses that are highly susceptible to molds – hence a dehumidifier prevents that.
A dehumidifier works pretty much like an air conditioners as it comprises both cold and hot coils along with a fan. However, whilst an air conditioner changes the temperature of the room, a dehumidifier only removes the humidity.
Myo Win's dehumidifier design looks very aesthetic and since the product is portable and also produces clean water as a by-product – it can aptly be described as a 'green' machine!
Via: Mwindesign