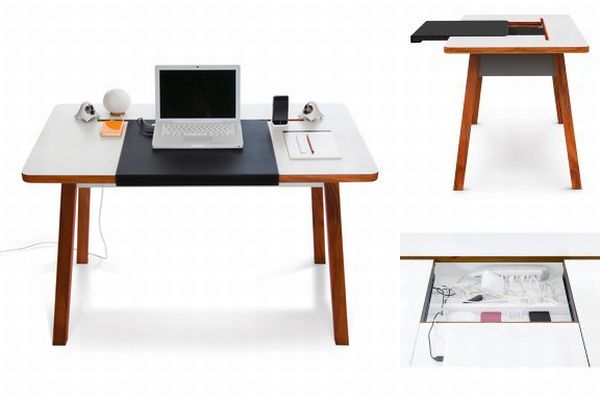 This amazing Worktable Studiodesk is perfect for any home as it makes our work space free from the hideous-looking cables that hang from behind the table. Since most of the people work on desktops, there is a constant tussle in trying to keep the multiple wires in an organized fashion, but we can never succeed in hiding them away. However, with the Worktable Studiodesk, our work space will look extremely neat and cable-free due to the presence of a false central top surface that slides outwards to conceal the cables, chargers along with the multiple plug distribution box.
Apart from the aesthetic quotient of this worktable, the size is also very compact which would make it a perfect fit for any room. Particularly for offices, where size is always a concern, these tables would comfortably fit inside cubicles making small work areas seem to be free from the unattractive web of cables dangling from behind the tables. Irrespective of how many devices you have plugged onto your workstation, the Worktable Studiodesk will take care of all of them by neatly tucking them under the table top.
This small table can be used at home or at office and can make your table look extremely neat and clean. The sliding table top can also be upholstered in leather – as per customer requirement. Weighing approximately thirty kilos, the dimensions of this remarkable table are 120cm x 70cm x 75 cm. The legs of the table are made out of mahogany whereas the table top comes in melamine, MDF finishing.
Via: Magazin