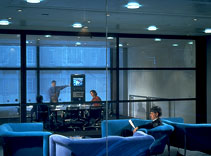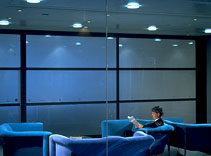 Privalite is a high-tech glass from French Company Saint Gobain that will get frosted and remove all possibilities of looking across it just with a push of a button.
Yes, these glasses when used at homes will eliminate the requirement of curtains and blinds to maintain privacy.
Do doubt, Privalite is an 'intelligent' glass…but I don't think is very popular for domestic use at present. But I think it will be a great option to be used in rooms where you wish to have direct sunlight…that you can stop whenever you feel like by frosting the glass.
Also a great partitioning option. You don't have to worry bout electricity consumption…for it consumes just 5 W/m2 of power.