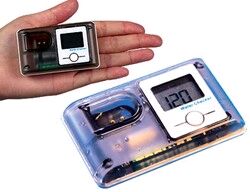 Clean Water and health are closely related to each other…so if you want to have a healthy family, then the Water Checker should be the next item on your Shopping list.
With Water Quality Checker you can in fact check the quality of water that your family is drinking. Just place a drop of water that you want to test, press the button and wait for a few seconds to get the exact level of total dissolved solids in the water.
Get one for your home and you'll always know when the quality of water you are drinking is deteriorating…and when you need to do the needful. Buying it would not cost you much for it costs just $29.95.