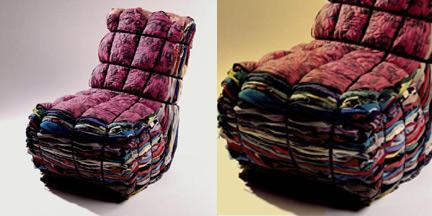 Check out this rag chair…as the name suggests it is indeed made out of rags. Designer Tejo Remy has made this comfortable chair reusing old clothes. Indeed an environment friendly design.
I think one can try making this one at home. Old bed covers tied together in the desired pattern might work. What do you say?
I don't think the design is comfortable enough, at least the looks say so… for it seem as if one who sits might fall. All I can say that it's a unique concept …but only for those who are ready to spend $2750…just for a chair that too made out of rags.
Via : Generate