The Designer/Manufacturer
The designer and manufacturer, Rayburn, is renowned as a home energy center. It ensures designs that help you cook food, heat your water and also warm your home based on your needs. Launched in 1946 with the release of two hotplates, the Rayburn company has come a long way since and has revolutionized the concept of energy consumption at homes.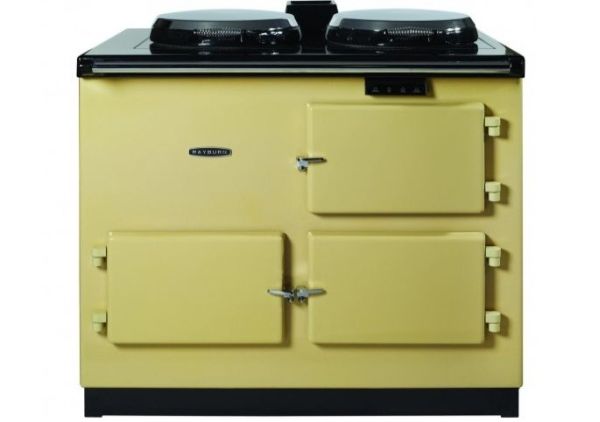 Overview
The Rayburn electric is the most comprehensive and efficient offering from the Rayburn range. With thermostatically controlled fan electric and conventional ovens along with grills, the Rayburn electric arrives with a wide range of cooking options. And these options are all highly efficient and excellent. Eliminating the need for a flue, the Rayburn electric thus permits greater flexibility in designing the kitchen. It can be placed anywhere and thus changes in the kitchen layout are also possible. No wonder then that this has been called as the Rayburn for the 21st century!
What's unique?
The patented 'Warmfront' technology is something very special about this cooker. Traditionally, the Rayburn was reputed for the warmth it brought in the kitchen. The modern, electric version does not leak heat and so does not warm up on the outside. But just to keep up the nostalgia and feel, the outside of the cooker can be warmed up with the flick of a switch. And this happens with the consumption of minimal energy.
High Points
The efficient cooking that the Rayburn electric allows is unmatched. There are options for using either the induction hob which has excellent response times or the ceramic hob which can be used for either rapid heating or rapid cooling. The controlling ability that the cooker affords and the elegant touch screen make the cooking experience a truly modern one.
Features
The electric cooker comes loaded with features. First of all, the cooker has one single ceramic-glass cooking surface. The entire controls are touch-sensitive making them elegant and easy to handle. Heating and cooling is done through the induction hob and ceramic hob which arrive with either dome or square hinged lids. While the induction hobs utilize the services of two 2.3kW burners, the ceramic hobs make use of the latest infra-red technology.
The Rayburn electric cooker arrives with a variety of cooking modes in two thermostatically controlled ovens. The oven on top has a capacity of 43 liters and can be used as a grill, fan grill or fan oven. The oven below with a 41.4 liter capacity can be utilized either as a conventional oven or for browning. The cooker makes use of the patented 'Warmfront' technology and arrives with a promised parts warranty for 3 years and labor warranty for a year. Measuring a standard 910mm x 980mm in dimensions, the Rayburn electric is available in Cream, Dark Blue, Black, British racing Green, Aqua and Pewter shades and colors.