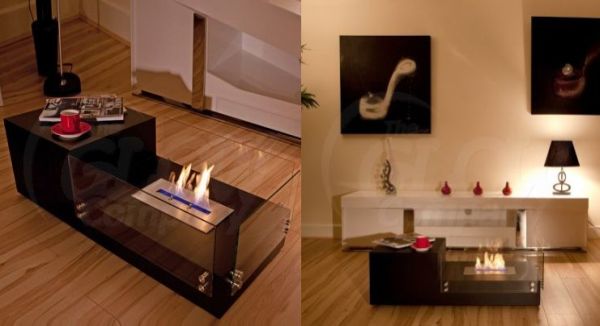 The Real Flame Dual coffee table is the ultimate in contemporary furniture which combines the benefits of a coffee table with a burning flame of fire. This two-in-one luxury product provides an instant cup of coffee on the table. All you have to do after placing the device on a stable surface is to fill the fuel reservoir and light a flame, that's all – your coffee is ready in a jiffy! The stunning piece is stylishly designed and acts as an ultimate space saver and solves heat problems all in one go!

The table features a stainless steel burner with an adjustable flame and can accommodate a litre of fuel. It has a burn time of 3.5 – 5.5 hours depending on the customized settings. The table weighs about 20 kgs with dimensions (cm): H30.5, W102.5, D45. It comes in a smart matte black finish with a tempered glass flame. It is fuelless and runs on Bio ethanol only.
You can order it now for £395 online.