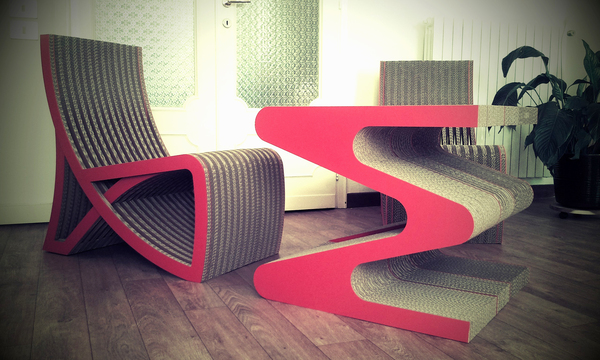 Twist and turn your furniture into beautiful curvaceous designed furniture. Made from corrugated pieces of cardboard, the furniture will enhance the beauty of your living room. Its curves are very attractive.
Crafted in the form of elegant designs, with twists and turns shaping up the chairs and tables, the furniture is offbeat yet creative in its own way. Designed by IMISS, the corrugated pieces of discarded cardboard were given a new look, by converting them into these rhythmically shaped pieces of furniture. The material has been dyed red, while the cardboard retains a mix of its own color as well. Mixed and fused for the ultimate style, the styles represent all the essentials of nature. It may be a matrix or the hollow curve inside the chair and tables, the furniture will sway you right off your feet. Guaranteed to leave you gasping for more, IMISS has painstakingly done its best to woo the end users.
The composition is a mix of sheer ingenuity, passion and design which has been formed into these stunning pieces ready for your living room. It would not be a surprise if your visitors fall in love with these eclectic designs, right in the first look. Boasting of a sound design, elegance and trendiness, IMISS has done a very commendable job in the creation of these cardboard furniture pieces.
Via: Behance