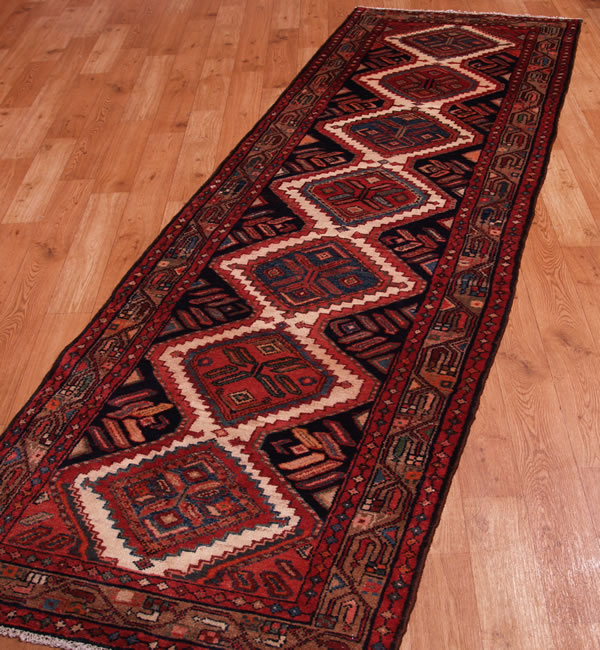 Rugs have been a fundamental part of interior decor for generations. When it comes to dining areas, hallways or stairs, runner rugs are the essential accents to beautify home. Runners are basically those rugs which collects residue of moisture from our footwear. Runners can be used as the floor covering to protect floor from dust and scratches. The best part of the runners is that, it covers the flaw of your old wooden flooring. These look warm and welcoming when placed on wooden or tiled flooring and also reduces the noise produced, while walking on floor. Runner rugs come in many different designs and colors. Runners make stairs less slippery and also add décor.

1. Chenar Persian Runners Rug Terracotta, Navy and Cream 82cm x 285cm
BRAND : Chenar
PRICE : USD 681.48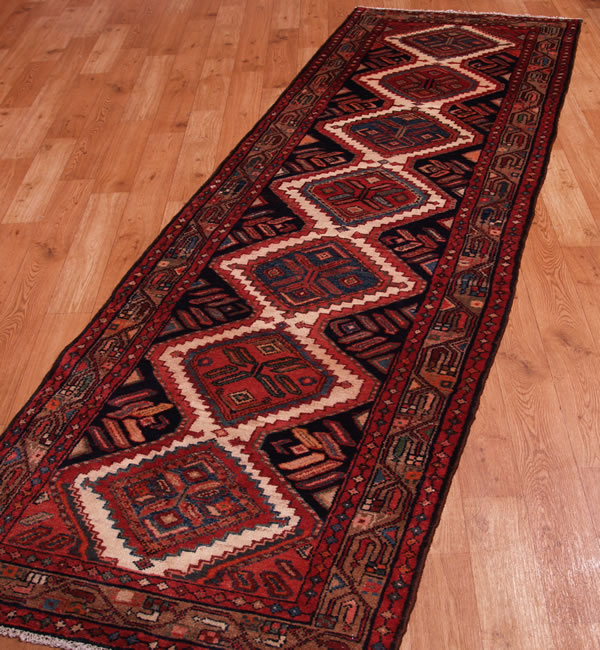 This red runner, featuring a gleaming appearance is one of the most beautiful décor stuffs you can ever have. Designed carefully in a geometric style, it has been woven from 100% pure wool which gives a warm and soft experience beneath feet. An ideal runner for your home and work place, apart from helping you in maintaining the highest standard of hygiene, it would also bring in an unconventional impression of beauty and glamor to your ambiance. It measures 82 x 285 cm, making it spacious enough. This rug is available in three alluring colors: Terracotta, cream and navy to choose from.
USP
Three tone color apart from brightening up the floor also makes it appear decorative
PROS
It is home-washable. It provides cozy and warm feeling.
2. Orian 23" x 89" Palazzo Runner Rug, Honey
BRAND : Orian
PRICE : USD 39.88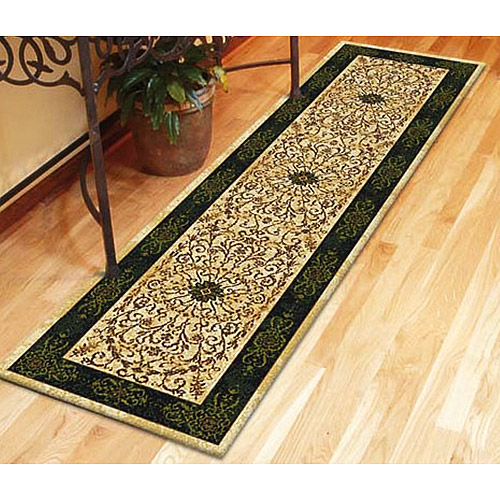 Looking to add some style along with statement to your hallway floor? If yes, then you have zeroed down to one of the most perfect products. It is made from soft, strong olefin fiber, which renders this rug durable and long-lasting. The mixture of various colors, like green, off white, black, brown etc., gives it an admirable dimension. You can also place it in your dining room. Vacuum cleaning is recommended, for better cleaning and care of this rug along with mild detergent and warm water to attain best and effective results against stains.
USP
This Palazzo Runner Rug adds style and protects your hallway floor
PROS
It is soft, durable and stain-resistant.
3. Modern Ivory Cream Runner Rug Long Hall Runners Rugs UK
BRAND : Modern Style Rugs
PRICE : USD 69.79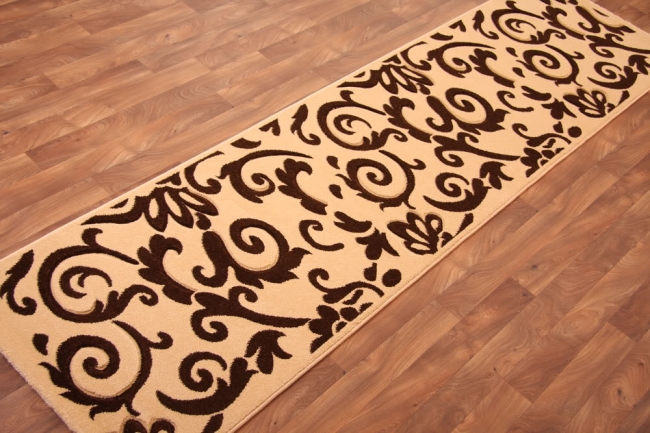 This polypropylene runner rug designed in modern and attractive colors, carved out of high density pile, is completely hand woven. The pattern, the texture has got a touch of simple yet elegant layout, which makes it highly attractive along with a natural stylish look, making it highly appealing. This runner rug is undoubtedly one of the best companions for your wooden, laminated or tiled flooring. It measures 80 x 300 cm and is available in attractive colors like ivory cream and chocolate brown.
USP
Hand carved design of this rug looks fantastic on wooden or tiled flooring
PROS
The stencil designing gives an attractive and trendy natural look.
4. Terracotta Yellow Corn Runner Rug 1569 Montego
BRAND : Montego
PRICE : USD 28.5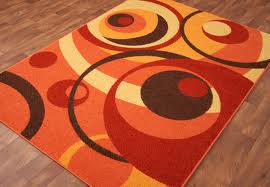 This charming Terracotta Yellow Corn Runner rug comes from the house of Montego. The colors in this runner are perfectly blended producing a distinct look. The bright colors of this rug lighten up the floor and room of your home. This high-quality rug emerges from 100% frise polypropylene which gives soft and luxurious feel beneath your feet. This rug is color fade proof, which promises to last longer, hence making it more durable. Easy to clean and maintain, kids will definitely love to have one in their room.
USP
Bright and colorful designs, binding on four sides make this rug immensely delightful
PROS
It has superior quality runner texture which makes it durable and prevents the color from losing its sheen.
5. Country Living Barnside 30X50 Scatter Rug
BRAND : Kmart
PRICE : USD 51.66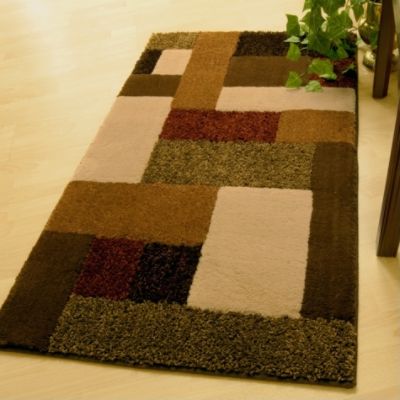 If you are looking for runner rug which would require less maintenance, then this should be the perfect answer to your requirement. This Country Living Barnside runner rug produced in synthetic blend has been piled woven. Coming in rectangular shape, it is stain, soil and fade proof multi-textured rug. To ensure a better and long lasting life, it's recommended to vacuum this rug on regular basis with mild detergents. Also, you can refer it your local dry cleaner. This 100% olefin piled rug has been made in USA.
USP
Synthetic blend of primary material make this rug stain, soil and fade resistant
PROS
It is durable. It is made out from 100% olefin pile. It is best suited in dining halls.