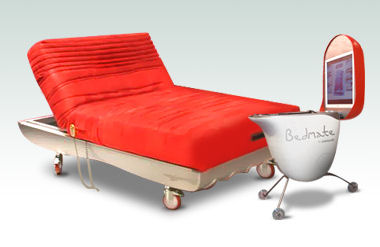 Designed by Sapapa Extreme, this bed comes as a perfect NexGen sleeping solution. Available in funky and jazzy colors the bed that looks like a comfy chaise comes with a striking tripod-mounted multimedia unit called the Bedmate, that's packed with 19″ LCD screen, DVD/CD player, and Sony PlayStation.
It's not just the design and multimedia that makes it NexGen bed but the perfect comfort level that it has in store for you work towards making it a smart sleeping option.
The bed features a "ViscoJel layer', which is in fact a layer of spring that cradles the spine for utmost comfort.
What more…? Sapapa will give you plenty of storage space as well to stack in all that you don't want outside.
Via: Trendir