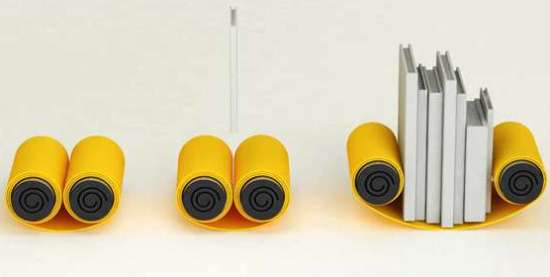 A modern manuscript when given to a designer transforms to a book shelf! Indeed, this is the best way to put together the features of the Scroll Bookshelf designed by Xin-Hung Lin, Pei-Yi Chiu, Chia-Rung Shu and Wung-Bing Lin. The latest accessory for book worms, the Scrolled Bookshelf is a novel concept.
The Scrolled Bookshelf shares its looks with a rolled up plastic sheet or a child's binocular. The design not only supports books but also contains secret cabins for stacking up pens and other stationary on either side. The bookshelf adds to the brightness factor with its vibrant color collection which is sure to take your eyes for a bright blink. The beneficial features of the bookshelf are its small size and portability. When scrolled up, it can easily fit in your bag and can be taken along to a library.
It is heaven for bookworms who can easily carry it along to libraries and study rooms and un-scroll it to stack their selected readings. When un-scrolled, the bookshelf provides a decent space with a stretched plastic sleeve base which can extend itself to a certain amount to adjust more and more books.
This multifunctional, modern and compact design with vibrant colors is expected to gather required popularity to register as a hit in the market.
Via: Trendhunter