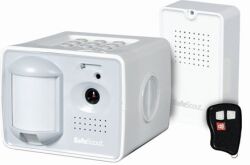 What do have to say about a surveillance system that keep on feeding your mobile phone with images of your home along with sending you SMSes and giving out a strong alarm when things take a wrong turn….? I would say its cool, but must be expensive.
This is not all, best is yet to come all this is available at a cool price of $199 and a monthly charge.
The concept is the brainchild of Sentinel Vision who sells the Sentinel SafeScout, under the tagline that reads 'Vision Based Security and Notification for Everyone'.
Their system does entire image and sound sending and receiving business with an easily installed on-site intelligent monitor, which transmits it to Company's sophisticated data alert center over telephone line. You just have to give them a particular number on which you would like to receive the info.
I hope this not just another home surveillance system that packs it's bag and moves out of the market in a short span of time, for the facilities and convenience that they are aiming to provide to their customers is tagged with a bit too low price, so I hope things do not go unmanageable due to finances.
Via: Gizmodo