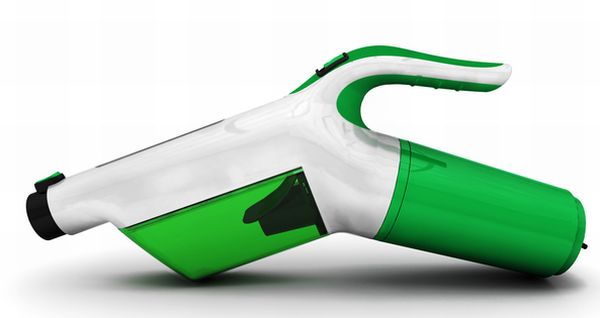 Does it seem to be a big assignment to clean up your house off dirt layers and spider webs using heavy vacuum cleaners and similar equipment? Now, Settebello II has come to your rescue and provide support on such cleaning tasks. It is a convenient mini vacuum cleaner that has been redesigned from a mini cleaner from 1960s or 70s! A team of designers, including Andrea Brivio, Stefano Airoldi and Davide Caprioli, has taken inspiration from an old-time mini vacuum cleaner whose brand is now almost dead but the product retains its nice original shape. Their group project has resulted in a creative cleaner that is very lightweight – Settebello II just weighs around a kilogram!
Though this vacuum cleaner is lightweight and small in size, it is still powerful – with 750W of power! The cleaner gets its power through wires instead of batteries. Additionally, you now would not have to keep bending to clean the nooks and corners of your room and under big furniture items – this mini vacuum cleaner can do your job very swiftly and easily. It even reaches those places where a regular vacuum cleaner is unable to provide its access. In order to allow such kind of flexibility in this mini vacuum cleaner's design, there is an elastic tube that has been used. The elastic tube's length can be stretched from 25 cm to 80 cm that can help the device reach distant and corner places.
In addition to the above special features, Settebello II offers two different attachments that can serve under varied cleaning conditions. There is also a special filter that helps creating air flow in a particular manner. That way, the filter is able to separate the heavy dust from other kinds of particles and materials. So, if you really want to go for an easy-to-handle device that can become your complete household cleaner and helper, check out the Settebello II mini vacuum cleaner!
Via Behance