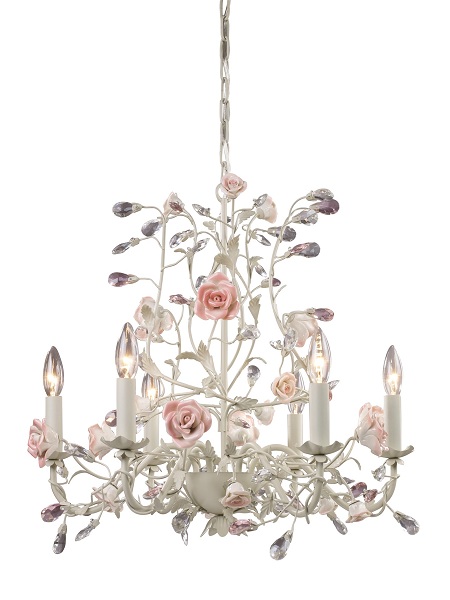 While there are many ways to enhance the beauty of your house, changing or adding chandeliers can be noteworthy. This piece of branched decorative will not only illuminate specific rooms, but will also add an extra richness to the entire house. You can get chandeliers in various shapes, sizes, and shades. In addition, it need not be necessarily expensive. Listed below are some exclusive shabby chic chandeliers to suit individual needs.
Light Flower Shabby Chic Chandelier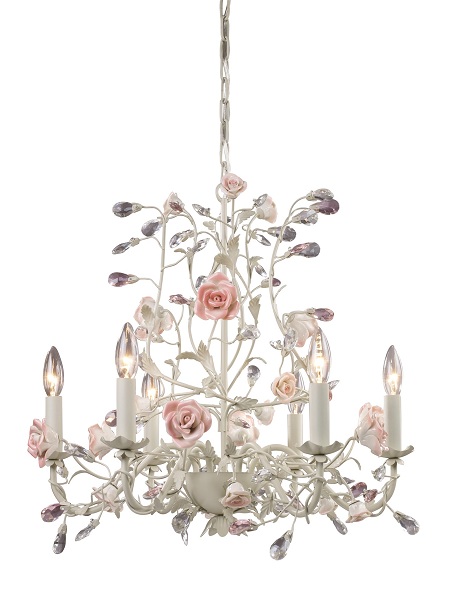 Price: $387
What's unique
A product of Elk lighting, this light flower chandelier is a perfect pick to transform any simple room into an elegant one. The beautiful roses, leaves, and glass petals of the frame separate the artificial candles placed all around the fixture. Due to the light cream finish of the chandelier, it can be a great match for any wall color.
Annika Single Light Mini Shabby Chic Chandelier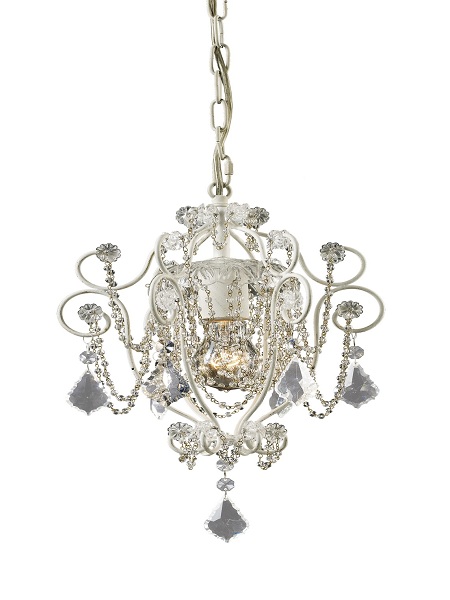 Price: $153.00
What's unique
This small and stylish single light chandelier can illuminate any area of your house. The chandelier frame is adorned with intricate curves and curls, while an upturned bulb is placed at the center to enlighten the room. Eye-catching droplets are also placed throughout the chandelier, that offers it a beautiful glittering effect.
Spence 9 Light White Chandelier with Rose Crystals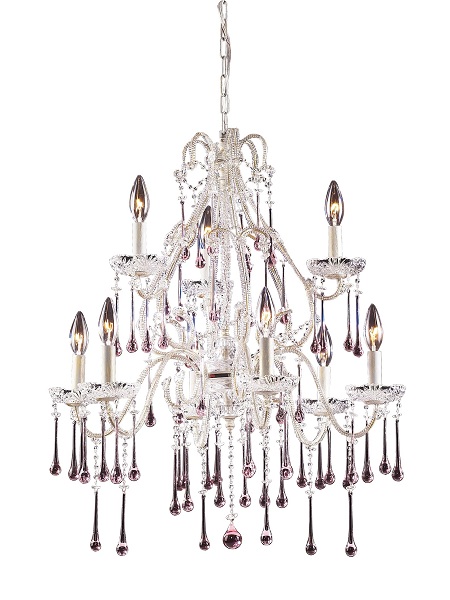 Price: $711.00
What's unique
The beautiful curved canopy holds up this Spence 9 white light chandelier with rose crystals. While, the crystal beads beautifully embellish the entire chandelier, delicate rose color blown glass droplets look like a majestic rainfall. The antique white color of Spence 9 is a perfect finish for the chandelier.
Lighted Michelle Chandelier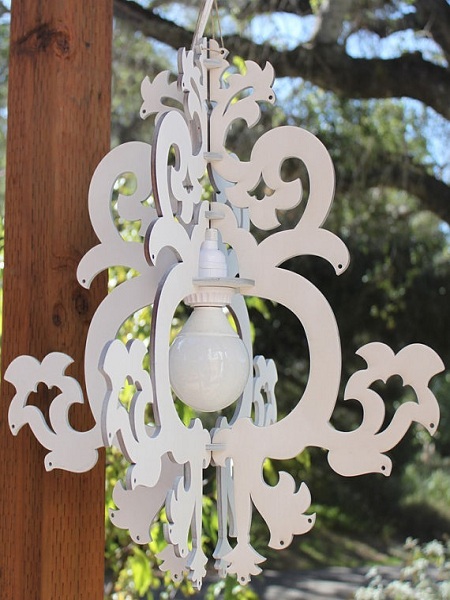 Price: $60.00
What's unique
Create a lovely atmosphere in your bedroom, or adorn your dining room with this elegant and stylish chandelier. Fabricated in white painted wood, it comes with pre-drilled holes so that you can run your imagination and hang crystals, beads, or other embellishments. Consider placing it indoors, as direct sunlight or rain can be harmful for this chandelier.
Dollhoue Miniature – 5 – Arm Shabby Chic Working Cupcake Chandelier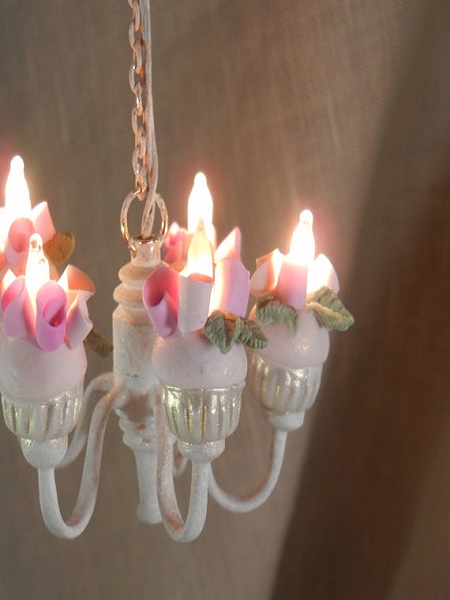 Price: $3.00
What's unique
This five-arm chandelier is an inexpensive and easy way to make a quick change to your bedroom or any other area of your house. It comes with working 12v lights and features cupcakes, iced with pink flowers and green leaves. The white finish of the frame is a perfect color to enlighten the room.
Shabby Chic Damask French Country Chandelie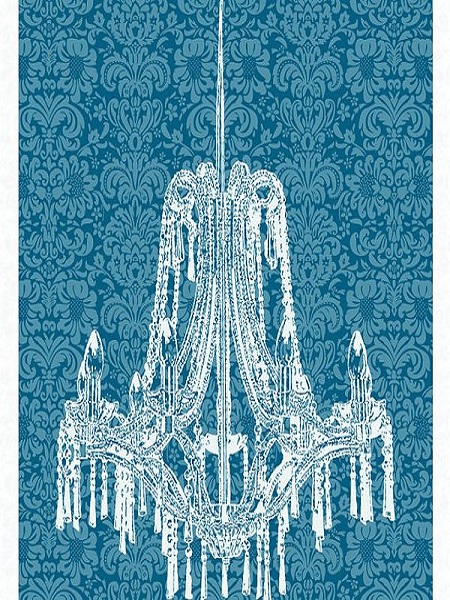 Price: $17.00
What's unique
Printed on Epson archival ultra premium paper, this Shabby Chic Damask French Country Chandelier blue art print is inspired from a vintage figure of early 1900's. This 8*10-image print can be ordered in various shades to match your wall colors. Overall, this striking piece of art, once framed, is sure to add that sense of style to your room.
Bayonne Collection 5-Light Brushed Nickel Chandelier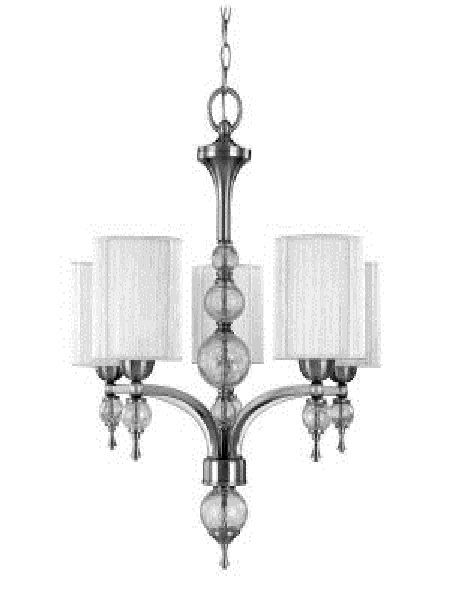 Price: $448.20
What's unique
This contemporary and stylish five light chandelier can be a great asset to your dining room. It features Bayonne collection's signature brushed nickel finish. The silver shades on the frame and the crackled glass balls are sure to create a mesmerizing effect in your home.
Essentials Chateau Elegance Mini Chandelier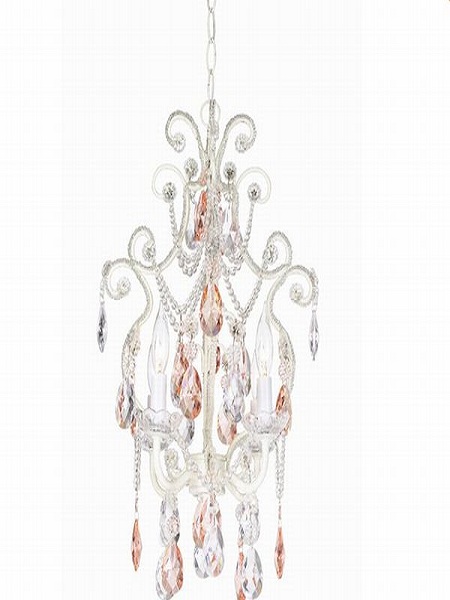 Price: $118.91
What's unique
The Chateau Elegance Mini Chandelier by Essentials collection is ideal for dining or partying area. If you are planning a romantic dinner, its soft and soothing light will surely add that extra charm to the atmosphere. It is adorned with pink and cleared jeweled droplets, and the frame is finished with gentle white color. Its sparkling and dazzling effect will be a certain treat to your eyes.
Sutton Four-Light Mini Chandelier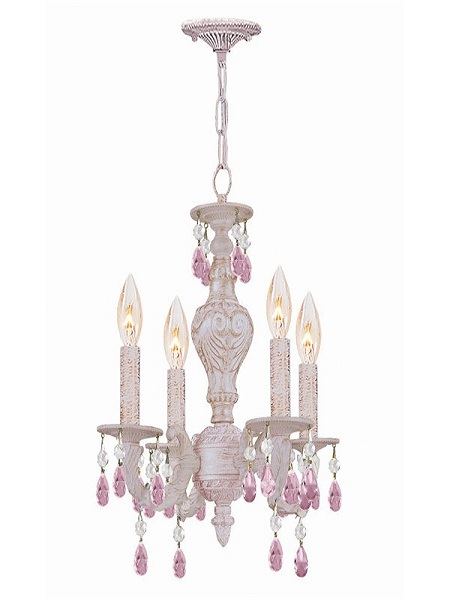 Price: $250.00
What's unique
Pink being a girl's color, this Sutton four light mini chandelier is perfect for your kid's room. It features a simple design frame made of wrought iron, small pink and white crystal droplets to enhance the beauty of your princess' bedroom. In case you need it for other small areas of your house, you can consider buying other shades of this chandelier as well.
Crystorama Paris Flea Market Mini Chandelier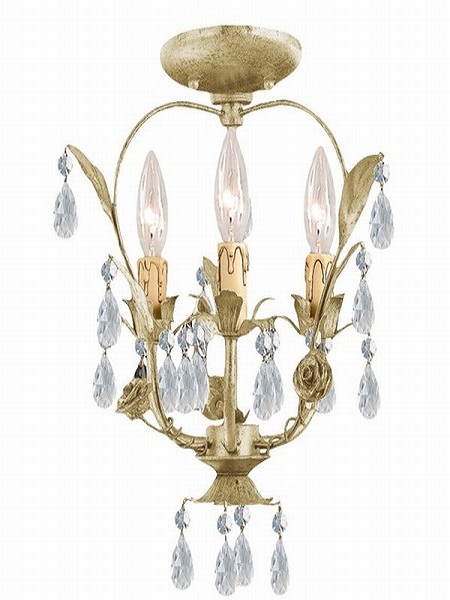 Price: $158.00
What's unique
This Paris Flea Market Collection from Crystorama is most suitable for smaller interiors. It features extraordinary hand cut clear crystals and a stunning champagne finish. Fabricated for younger generation, this convertible mini chandelier can easily camouflage its low price with great looks. It is elegant and affordable.