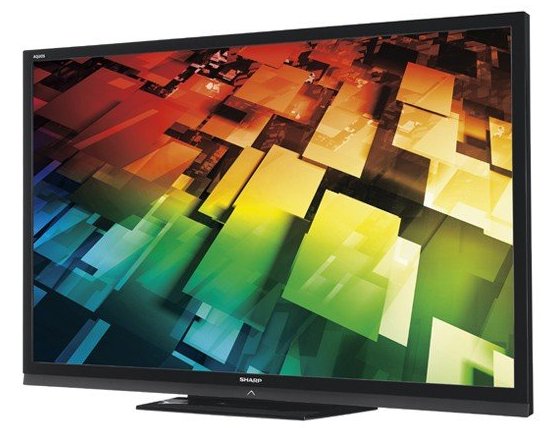 Sharp, a Japanese multinational corporation has recently launched 70 inches AQUOUS Quattron LED LCD TV (LC-70LE732U). The company introduced this model at an international consumer electronics show in January. It is one of the biggest LCD television made available to the public this year. This television is thinner and sleek than CRTs and is available in larger sizes. LC-70LE732U uses LCD (Liquid Crystal Display) technology for viewing better images and has 62 percent more viewing area than the 55-inch model.
The television attributes full HD 1080 resolution, LED backlighting and Quattron Quad pixel technology. The full HD (high definition) is characterized with 1080 horizontal lines of resolution; full-array LED backlighting consumes less power and provides brighter picture display and better contrast levels. The Quattron Quad Pixel Technology is used for enhanced color display. This technology uses four color subpixels including yellow, red, blue and green. The television also has a 69.5″ diagonal display.
It is also important to draw attention to the television's other features such as built-in Wi-Fi and access to on-demand movies through Netflix, VUDU, Cinema Now and also runs applications such as Facebook, Pandora, Twitter and Flickr.
LC-70LE732U has a unique feature, Sharp AQUOS Advantage Live customer service. It includes direct access to Aquos Advantage advisors, online information, and support tools. This service assists customers with setup and setting through internet sitting at your own place.
Unlike other televisions, LC-70LE732U also includes an IP control. This feature enables PC to control basic TV functions via Ethernet or wireless LAN. Four HDMI inputs are also made accessible to plug in cable set-top box, hard disks, play station or any other devices. LC-70LE732U will be made available at all the major retailers nationwide by May and offered at $3,799.
According to John Herrington, president, Sharp Electronics Marketing Company of America, the production capabilities, which include the industry's 10th Generation LCD factory, and proprietary technologies give a tremendous advantage in supplying the market with superior large screen TVs, particularly those of 60-inch class plus screen sizes.
Source: Ubergizmo