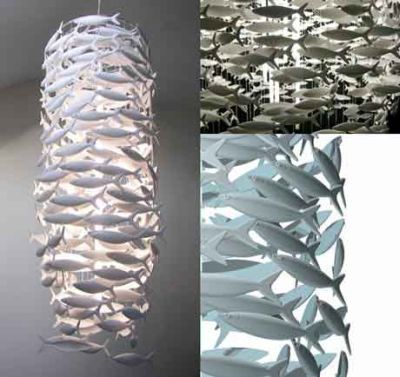 Waters appeal to almost everyone and more exciting is the life that subsists under those waters. No one can ignore the beauty of nature and I am sure you would love the same to float at your place. What am I talking about?
Well, English born Dominic Bromley who is the one behind the brand 'Scabetti' has designed an awesome chandelier called shoal. As the name suggests the chandelier has a swirl of fish sculpted in bone china.
The shoal swarms around one main central light and the gaps between the sculpted fish let the rays pass and scatter around the room. The shoal is a part of a 100 percent design by the brand and has also been awarded. The piece is elegant and looks beautiful hanging from the ceiling.
However, I do feel that the length of the piece is quite long and thus, you definitely need a high ceiling to make sure that it does not bang on your head.
Source: Freshome