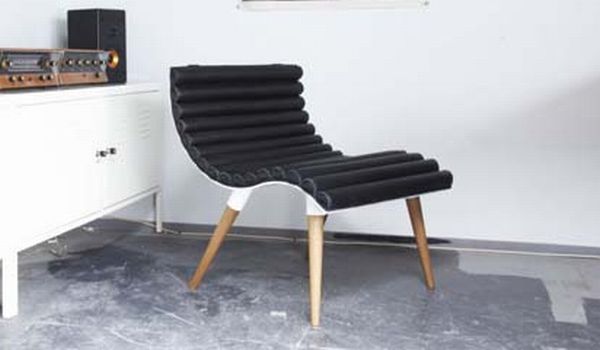 You do not need to be a furniture enthusiast or an expert interior decorator to know the immense importance of a perfectly comfortable chair . After a hectic day at work or an exhausting week your heart might long for a few hours of complete relaxation and some peaceful solitude. A super-comfy chair that allows you to lie back in a relaxed posture and spend some quality time with yourself can be your best friend. The curve chair designed by Toronto-based Castor Design is custom made to suit all your relaxation needs. Brian Richer and Kei Ng are the brains that run Castor Design.
The designers at Castor have designed this curve chair with equal attention to style and comfort. The curve chair is a unique piece of furniture as it is made out of an assortment of different durable materials like wood, leather, and plastic. If you thought that every comfortable chair has to be a big, bloated piece of furniture, then this curve chair proves you wrong. The curve chair is a sleek piece of furniture and is not bulky. It has an extremely stylish look and the classic black and white color scheme ensures that it blends with any kind of interior decor. The undulating body of the chair is ergonomic and supports your back as you unwind. Your back deserves some pampering after hours of sitting in a bad posture in front of your desktop at work. If you are engaged in physically exhausting work then you need the rest all the more!
Apart from the promise of a great time of relaxation, the other great thing about this chair is that it is extremely versatile. You can place this chair in your balcony or your garden for some quality solitude time. It can also be placed in a corner of your living room with a rug and a lamp to create that perfect unwinding zone. But this chair can be a perfect choice even if you shudder at the very idea of solitude and love nothing better than spending time with your close friends. You can get a few of these chairs with a table that complements the decor and you will have the perfect setting for a get together with your friends. You can spend endless hours talking to your close pals, seated comfortably in the curved chair and your friends will always be thankful for this comfy treat!
Via: Rangkep