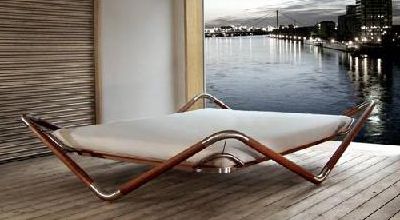 Those of you who want to be a class apart and cannot compromise when it comes to sleep…in short you are simply in love with your sleep then this innovative Float bed from Max-Longin is just perfect for you.
The bed has a sensual feel about it and the chic design compliments that sensuousness. The appearance is minimalist yet capable enough to leave a lasting impression on the onlookers mind.
The sleeping space rests on sleek wooden rods and stainless steel bows. Who is going to come out of sleep once he's in a stylish and sleek bed like this…or another possibility is that you might not sleep at all and just end up appreciating it's beauty all through the night.