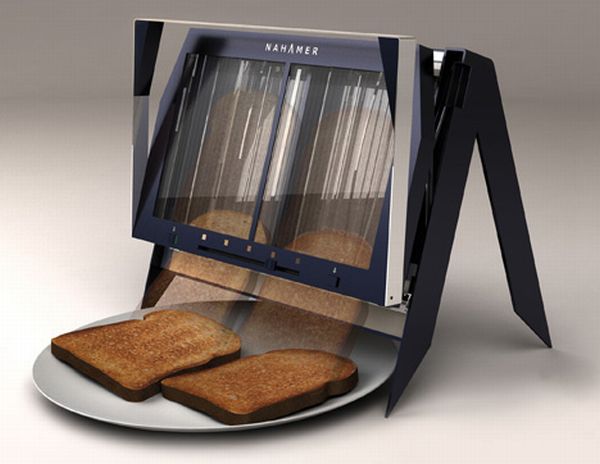 In this busy world where everyone is getting so engrossed with their work, hardly has the time to waste on anything and if at this point if we get a magical tool which saves lot of time and is stylish, unconventional and innovative at the same time, it's blessing for sure. Its a true, wonderful magic tool not only for a working housewife who has to manage her own schedule, also of her family but works wonder for the bachelor lazy men who survives only on crunchy toast. Its an innovation right here in our kitchen.
1.Portable Toaster by Been Kim
This one is an amazing mixture of style and innovation. It looks like a regular butter knife but has a graphic user interface that shows the user how well the bread is toasted.
2.Message Toaster by Sasha Tseng
Have you ever wondered if morning breakfast can actually pass on your message to your loved ones. Here it is, a toaster that not only will make you a crisp toast but will also write down or rather imprint whatever you got in your mind. Awesome!
3.Toasty by Arthur Wu
Remember those good old days when cassettes were still ruling and CD's were mere future gadgets. Yes, Arthur Wu has tried to create the same effect in his brand new piece, Cassette – Deck Style toasty. It will not only toast but will pop out in the most kick hard manner just like the cassette did.
4.Sunshine by Younil Lee
Are you a Dice lover or hate it to the core ? Whatever , like they say " you can hate it or can love it but you will surely not be able to ignore it" . Its modern yet classy. This toaster will pop out the randomly spot-marked toasted bread. Which number is your lucky number.
5.Scan Toaster by Sung Bae Chang
This is a very simple but dynamic design.Just plug in the toaster to a USB port, and see how it toasts the bread . But the fun part lies here, you have couple of buttons to press on the toaster and can directly print and download the news or the weather report via Wifi network, etc,… How about that!
6. Nahamer T40 by Rob Penny
This is an eco friendly toaster consuming only half the energy of the standard 900W and is 20% faster. It uses only one side of the toaster if only one bread is being toasted.
7.Transparent Toaster by Inventables Concept Studio
This definitely will bring revolution in your kitchen.It will be amazing to see exactly how your bread turns golden brown through this beautiful glassy toaster.With few more add-on touch, it should be ready to bring revolution.
8.Glide by George Watson
This is a ceramic beauty for your kitchen, which glides your toaster easily. A must-have kitchen tool.
9.The Toasty Charger by Hyun- A Ko
I would love to have this cute little toaster as it will not only get me my breakfast done but also charge up my gadgets too. Isn't Cool?
10. Jet-Powered Toaster by Petr Nestratov
Imagine, one morning you wake up, head to the kitchen and see a JET is getting the bread toasted. Well! No more imaginations. This Jet – engine behind your morning breakfast is the brain child by Petr Nestratov. I am Speechless!