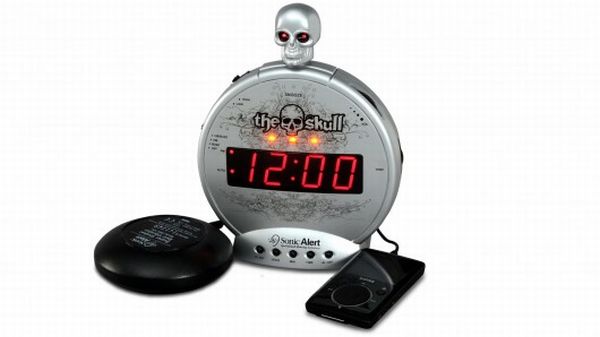 Sonic Alert recently unveiled the Sonic Boom SBS550BC alarm clock, also called as the Skull. The clock includes red flashing eye sockets, a strip of orange flashing alert lights and an input for plugging in an MP3 player. It also comes with the company's "Bone Crusher" bed shaker to rouse you from sleep.

Sonic Boom clock's power consumption is AC9V. The skull also has a Hi/Low dimmer switch, extra loud alarm, 113 decibels with adjustable tone and volume along with battery backup when the power goes off. To use the battery backup, a 9-volt alkaline battery has to be installed inside the back of the clock located under the battery cover.
The skull, available for $47, also has alarm indicator, alarm function switch, skull snooze switch, LED light, AC adaptor and more. The LED light will be displayed only when the power is on. The bed shaker available has to be attached to the back of the clock and the bone crusher has to be kept under the pillow.
Source: Gizmag