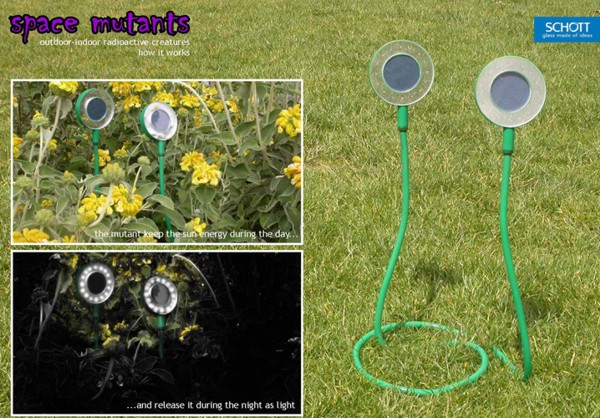 Space mutants are a set of decorative lights designed by Josue Gamonal of Madrid, Spain. The lights are powered by solar energy. They feature extremely flexible body, so they can be placed conveniently anywhere in your interior or exterior.
As the space mutants use the LED lights, they give out a white shiny light. Take them out and fix them in your garden in the dark night and they will create the feel of alien eyes with shiny ring of white light and the black ball inside.
The neck of the space mutants is so flexible that you can attach them on to the floor, stand, wall, trees, or anything. In the day, the solar panels on the space mutants get charged, and in the night they produce the light. The space mutants are available in different shapes like three or four legged rectangular lights, hanging four rectangular lights and two round lights in a pair. The space mutants are made so smartly that they can hide in their surrounding easily.
The space mutants consist of multiple glass layers and solar panels in which the LED lights are fixed. The body is made of metal. The body of the space mutants is designed in such a way that they can turn in 360 degrees at any position. The space mutants come in two colors, which are Red and Green.
The space mutants are helpful in many ways. As they use solar energy, they can bring a lot of energy savings in your home.
Via: pinkelephant