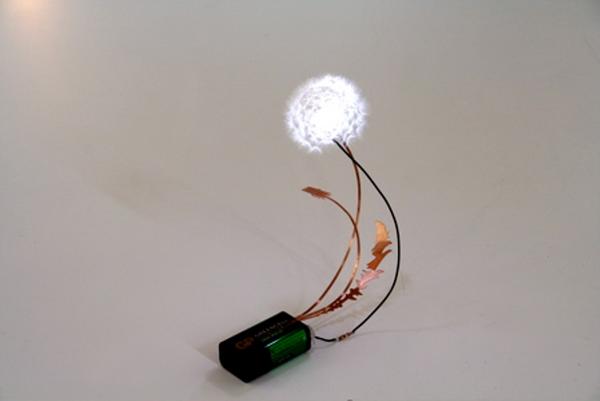 Dandelight is a battery-powered LED light designed by Lonneke Gordijn, a member of Drift. The design of Dandelight is inspired by the beautiful Dandelion flower. The LED lights are grouped at the center, resembling the seeds of the Dandelion flower. The outer part is provided with thin wires. Important components of Dandelight include an electronic circuit, seeds of Dandelion (LED lights) and a battery. When the LED lights of Dandelight are on, the center part of the flower shines brightly and the outer part becomes a little transparent.
The base of the Dandelight is designed into a battery case, so that it can be placed on the floor or a pot with good support, thus avoiding the need for another base. This electrical Dandelion is decorated with metal wires and artificial leaves.
Dandelight is a part of Gordijn's Fragile Future project. Lonneke Gordijn's Fragile Future is a modular wall-mounted lighting system that consists of a group of Dandelights that can react to movements. The project demonstrates a wonderful combination of nature and technology.
The Dandelight can be bought from here for $120.
Via: DesignDrift