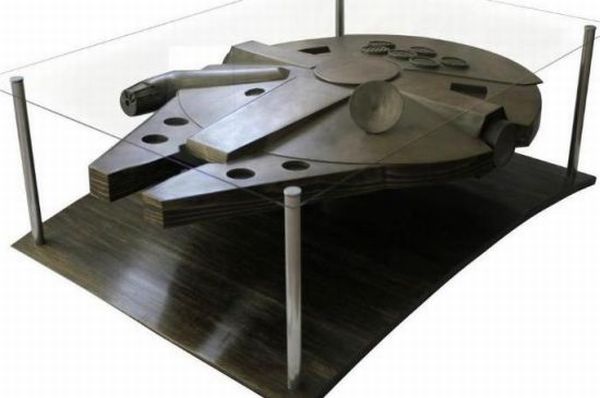 If you are one of those Star Wars Fans who does not believe in showy memorabilia but concrete presence of your beloved world, here is the perfect collector's item – a Millennium Falcon table inspired by the spaceship Falcon of the Star Wars series. Mutually exclusive concepts of illusion and practicality have been joined together to work a perfect Star Wars sci-fi charm for serious living-room activities.
The Millennium Falcon table is designed by John and James M of R9 design studio. This UK based studio, specialized in science fiction based sculpture and functional, has recently come up with a themed table to adorn your home with an extra-galactic presence. The table closely resembles the spaceship that has been an all time favorite in the Star War TV series. The impact is such that your visitors might rush back home to watch back to back episodes of the popular sci-fi series and keep gushing about it in the next few visits.
Re-living the golden age of sci-fi, the 42 inch coffee table has been given a rusty look with the base color as bronze. It has been displayed on top of a wood base and decked with a clear glass top. The designer duo clearly lives their fantasy world of galactic mysteries unfolding over a cup of coffee with this piece of functional sci-fi spaceship.
Via: Walyou